Czech Republic: 'Reckless' use of knee restraint during Roma man's arrest must be investigated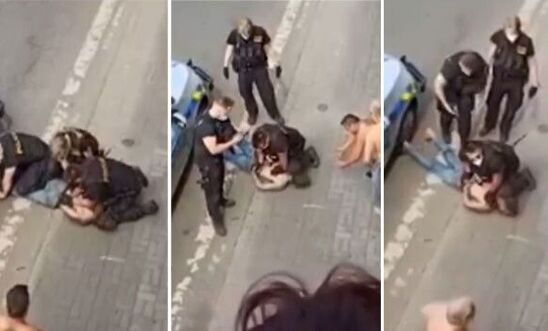 Police officer knelt on neck of Roma man for a prolonged period during an arrest © Romea.cz
'The use of this unlawful technique is a brutal means of control and is a significant danger to people' - Barbora Cernuakova
Responding to the death of a Roma man in the Czech Republic after a police officer knelt on his neck for a prolonged period during an arrest, Barbora Cernuakova, Amnesty International's Czech Republic Researcher, at said:
"The neck restraint technique used by the police during the arrest was abusive, reckless and unnecessary.

"We have seen this time and time again - the use of this unlawful technique is a brutal means of control and is a significant danger to people.

"The Czech authorities must immediately halt the use of this type of force on people and establish whether ethnic hatred or prejudice may have played a role in this case.

"We expect the authorities to carry out an immediate, impartial and thorough investigation of the police's actions in this tragic case."
Video footage
Video footage of the arrest - published by news server Romea.cz - shows three police officers using force against a Roma man in the northern Czech town of Teplice on 19 June. The video shows the man lying on the ground while police restrain him. One of the police officers is kneeling on the man's neck during the entire intervention, which lasts at least five minutes. The policeman maintains the knee restraint even after the man is handcuffed and offers no resistance.