Cambodia: Reforms to tackle prison overcrowding 'must go further and put human rights at the core of drug policy'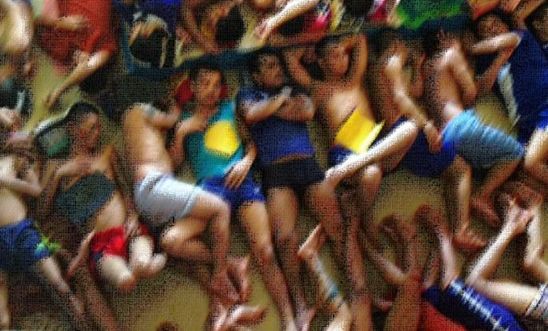 At the beginning of the year, Cambodia's largest prison facility exceeded 9,500 prisoners – which is 463% over its maximum capacity of 2,050
Amnesty International and Human Rights Watch want reforms to be deepened and made permanent, through the review and amendment of the Law on Drug Control
'Cambodia's drug detention centres are a terrible stain on its human rights record and they should be shut down without delay' - Nicholas Bequelin
Amnesty International and Human Rights Watch has called on the Cambodian government to go further than its proposed plan to tackle prison overcrowding and related human rights abuses prevalent in the country's justice system.
On 18 May, Minister of Justice Koeut Rith announced a plan to address backlogs in Cambodia's criminal justice system. On 27 May, Interior Minister Sar Kheng announced a parallel campaign to reduce prison overcrowding, citing human rights concerns and risks related to COVID-19 transmission, under which up to 10,000 prisoners imprisoned for minor offences could be released.
While these proposals could significantly alleviate prison overcrowding and improve detention conditions, their success will ultimately depend on how they are implemented. Moreover, reforms to the criminal justice system should be deepened and instituted as permanent, including through the review and amendment of the Law on Drug Control, which is a major contributor to prison overcrowding and related human rights abuses.
Phil Robertson, Deputy Asia Director at Human Rights Watch, said:
"Long-term criminal justice reforms that humanise prison conditions and reduce the populations of overcrowded prisons are long overdue to meet Cambodia's obligations under international human rights law."
Unanswered questions
Key questions over the government's reform plans remain unanswered. It is unclear how bail will be arranged for detainees and how sentence reductions and suspensions will be implemented for prisoners. Cambodia lacks a functioning free legal aid system, leaving most poor and marginalised defendants deprived of legal representation.  
Timely and meaningful reduction of the prison population of approximately 40,000 people will require the authorities to systematically review cases of persons currently deprived of their liberty, whether held in pre-trial detention or serving prison sentences.
Authorities should also urgently prioritise the early or conditional release of detainees at higher risk of severe illness or death from COVID-19, such as older people and those with underlying health conditions. Authorities should also prioritise the release of particularly at-risk groups who face heightened difficulties within the prison system, including pregnant women, women with infants, and child prisoners.
Crucially, the reforms announced thus far have neglected the ongoing human rights crisis in Cambodia's notorious drug detention centres, which are severely overcrowded and plagued by torture, and present the same COVID-19 risks as the prison system. Over 4,000 people are believed to be held in drug detention centres in Cambodia at present.
Investigation reveals true extent of suffering
A recent Amnesty investigation documented systematic arbitrary detention in drug detention centres as well as harrowing accounts of torture and other ill-treatment and deaths in detention. Human Rights Watch's past research on drug detention centres in 2013 and 2010 also revealed widespread torture and abuse. These centres lack any legitimate basis under international human rights law and they should be shut down immediately and permanently. People who wish to access treatment for drug dependence should be provided with evidence-based voluntary health and social services upon their release.
Nicholas Bequelin, Amnesty International's Asia-Pacific Regional Director, said:
"Cambodia's drug detention centres are a terrible stain on its human rights record and they should be shut down without delay. The authorities should put human rights at the core of drug policy and fully embrace voluntary, community-based drug treatment once and for all." 
Cambodia has ratified both the International Covenant on Civil and Political Rights and the Convention against Torture and Other Cruel, Inhuman and Degrading Treatment or Punishment, which prohibit arbitrary detention as well as torture and other ill-treatment. Moreover, Cambodia has an obligation under international human rights law to ensure that detention conditions - including living space and sanitation - are sufficient to ensure the health and well-being of all people in detention.
Overcrowded in the midst of a pandemic
Even prior to the additional dangers posed by the COVID-19 pandemic, Cambodia had a major overcrowding problem in its prisons and detention centres. Cambodia's prison population has skyrocketed by 78% since the government's anti-drug campaign started in 2017, up from 21,900 at the end of 2016 to over 38,990 in March 2020. This increase occurred even though Cambodia's prisons have an estimated capacity of only 26,593. In early 2020, the population of Cambodia's largest prison facility, Phnom Penh's Correctional Centre 1 (CC1), exceeded 9,500 prisoners – which is 463% over its maximum capacity of 2,050.
Almost 60% of all prisoners in Cambodia are held on drug-related charges and approximately 40% of those imprisoned under Cambodia's anti-drug campaign are held for minor offences, namely the use, possession, administration or facilitation of drugs. 
Political censorship
In addition, Cambodia's prisons hold more than 30 prisoners who are held on politically motivated grounds, most of whom are supporters of the banned opposition Cambodia National Rescue Party (CNRP).