Burma: Elections marred by growing repression and Rohingya disenfranchisement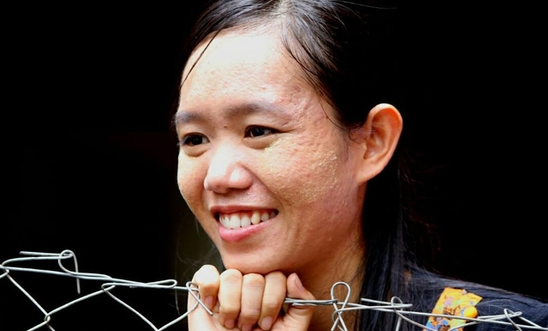 Student leader Phyoe Phyoe Aung
The jailing of peaceful activists, restrictions on free speech, discrimination and the political disenfranchisement of minority groups – in particular the persecuted Rohingya– seriously undermine this weekend's elections in Burma, Amnesty International said ahead of the vote on Sunday.
In the month leading up to the historic poll, at least 19 new prisoners of conscience have been jailed, bringing the total that Amnesty is aware of to 110 – while hundreds of others are on bail awaiting trial.
Last month, Amnesty International released a briefing documenting Burma's "new generation" of prisoners of conscience who have fallen victim to the increasing clampdown.
Josef Benedict, Amnesty's South East Asia Campaigns Director, said:
"Voters in Burma will go to the polls in a country where thousands attend Aung San Suu Kyi's rallies, but others are handed jail terms simply for speaking out or protesting peacefully. Those in charge might claim that the country is on the path to reform, but in fact a targeted crackdown on freedom of expression and the right to peaceful assembly has only intensified.

"The authorities laid the ground for repressing activism around the elections months ago. Their actions have ensured that those voices considered 'undesirable' are silenced behind bars, and created a climate of fear so that those critical of the government think twice before speaking out.
"The effective exclusion of Rohingya from the election points to serious and entrenched discrimination and should raise alarm bells with the international community. It is a clear indication that the authorities in Burma are not committed to addressing the situation of the Rohingya in a way which will respect their dignity and human rights."
 
Rohingya disenfranchisement
For hundreds of thousands of Rohingya and others, having their opinions heard during the election is not an option, as they have been effectively disenfranchised.
Stripped of the Temporary Registration Cards – also known as "white cards" – earlier this year, they will be unable to cast their vote on Sunday, despite having been able to participate in the 2010 and 2012 elections. Many Muslims and Rohingya election candidates have also been disqualified, while authorities have failed to address incitement to discrimination and violence against Muslims.
Prisoners of conscience and protest on Sunday
On Sunday from 1pm Amnesty supporters will hold a protest outside the Burmese Embassy in Mayfair, London to highlight the case of student leader Phyoe Phyoe Aung, who is facing nine years in prison for organising protests at the start of this year against a new law which restricts academic freedom.
Phyoe Phyoe Aung's husband, Lin Htet Naing, another prominent student unionist, was detained earlier this week after almost eight months in hiding. His arrest ironically relates to a demonstration he organised later in the day on 10 March to protest the violent dispersal of the earlier protest.
Another prisoner of conscience in Burma is British man Philip Blackwood sentenced to two and a half years' hard labour in Rangoon's notorious Insein Prison in March, for 'insulting religion'. He was arrested in December after posting Facebook advertisements for the bar he managed, which depicted Buddha as a DJ.
Amnesty activists will be calling for the release of all political prisoners and prisoners of conscience at Sunday's London protest.
Notes to editors
There is a new action for Phyoe Phyoe Aung at  https://www.amnesty.org.uk/burma
A full copy of the briefing 'Going back to the old ways': A new generation of prisoners of conscience in Burma is available here:
https://www.amnesty.org.uk/press-releases/burma-91-prisoners-conscience-held-pre-election-crackdown-new-briefing