Burma: 91 prisoners of conscience held in pre-election crackdown - new briefing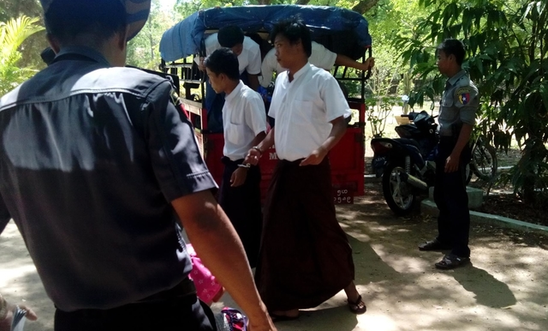 Unity Five journalists at their trial © Private
Burma has been harassing and locking up scores of peaceful activists as part of an intensifying and far-reaching crackdown ahead of elections on 8 November, Amnesty International said today as it launched a new campaign to free prisoners of conscience.
In a new 16-page Amnesty briefing – 'Back to the old ways' – Amnesty shows how repression in Burma has increased significantly over the past two years, in stark contrast to official claims.
Amnesty has named 91 prisoners of conscience currently behind bars in Burma and the actual number is likely to be even higher. This represents a dramatic increase since a wide-ranging presidential pardon issued at the end of 2013, when Amnesty was aware of just two prisoners of conscience.
A growing number of peaceful activists have increasingly been charged with offences which do not allow for bail and kept in pre-trial detention for extended periods, while prison sentences have become longer.
Amnesty's briefing documents seven cases in particular which are emblematic of Burma's new generation of prisoners of conscience. These include student leader Phyoe Phyoe Aung, who is facing nine years in prison for organising protests at the start of this year against a new law which restricts academic freedom; and Zaw Win, a 'solo protesting' lawyer currently detained simply for using a megaphone to call for an end to judicial corruption outside a court in Mandalay Region in May 2014, and  the 'Unity Five' who are media workers for the Unity Weekly newspaper and are currently serving seven years' imprisonment with hard labour in Pakokku prison in Sagaing Region, after the paper published an article about an alleged secret chemical weapons factory.
British man Philip Blackwood is also declared a prisoner of conscience. In March, he was sentenced to two and a half years' hard labour in Rangoon's notorious Insein Prison for 'insulting religion'. He was arrested in December after posting Facebook advertisements for the bar he managed, which depicted Buddha as a DJ.
Laura Haigh, Amnesty International's Burma Researcher, said:
"Burma's government is trying to spin an alternate reality where all is rosy for human rights, which the international community is far too eager to accept.

"The reality on the ground could not be more different. The authorities have intensified a chilling crackdown on freedom of expression over the past year.

"The numbers speak for themselves – we believe that almost 100 peaceful activists are currently detained, while hundreds more are facing charges. President Thein Sein must immediately free all prisoners of conscience and put an end to the repressive practices that fuel arbitrary arrests.

"World leaders cannot take at face value Burma's claims to have ended repression."
The clampdown has affected a range of people perceived as "threats" to the government, including activists, lawyers, opposition activists, students, trade unionists and journalists.
The Burmese authorities use a range of draconian laws to arrest and imprison government critics. These laws contain provisions prohibiting, among other things, unlawful assembly, "disturbing state tranquillity" and "insulting religious feelings". The climate of fear is compounded through other forms of intimidation, which include a pervasive system of monitoring and harassment. Activists are subjected to constant surveillance including being followed, having their photo taken when attending events, midnight "inspections" of their offices and homes, and harassment of family members.
Many prisoners of conscience in Burma have faced several previous stints in jail, and are often re-arrested and handed new prison sentences shortly after being released.
Amnesty is calling on the Burmese government to immediately and unconditionally release all prisoners of conscience and for the international community, which has largely relaxed pressure on Burma over the past two years, to step up efforts to push President Thein Sein to release all prisoners of conscience in Burma.
Downloads