Burma: Copper mining company linked to abuse exploits British Virgin Islands' secrecy provisions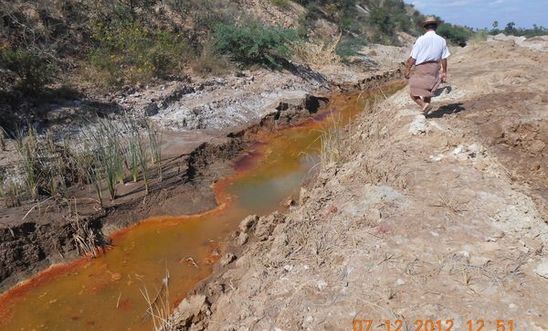 reddish-orange water in drainage channel near mines © Amnesty International
"It's high time that the British government stopped allowing its overseas territory to be used as a secret haven for hiding illicit activity" – Meghna Abraham
The UK Government must investigate whether a copper mining company operating in Burma has abused the secrecy provisions of British Virgin Islands to carry out illegal activity, warned Amnesty International in a damning new report published today (10 February).
In its 24-page report, "Open for Business? Corporate crime and abuses at Myanmar copper mine", Amnesty reveals how companies linked to Burma's copper mining project, Monywa – which includes the notorious Letpadaung mine – have profited from serious human rights abuses and illegal activity committed by the Burmese authorities, including large-scale forced evictions, and extreme pollution.
Amnesty also highlights how Ivanhoe Mines (now Turquoise Hill resources), a Canadian co-partner in Monywa set up a trust in the British Virgin Islands – a territory of the United Kingdom – to divest its Burma assets, and used secrecy provisions to keep details of the sale secret.  The British-Australian mining corporation, Rio Tinto, which now owns over 50% of Turquoise Hill Resources made the setting up of a trust a prerequisite for its acquisition of shares in the mining company. 
Both the subsequent co-ownership of the Monywa assets by a military-run conglomerate, UMEHL, and the use of a 'broker' suggest economic sanctions in force when the transactions occurred may have been breached during this process by the Trust and Ivanhoe's British Virgin Islands subsidiary.  This also raises serious questions about whether Rio Tinto was involved in activities which may have had the effect of circumventing economic sanctions.
Ivanhoe Mines entered into a joint venture with the Burma state owned company (Mining Enterprise No. 1) through its British Virgin Islands subsidiaries. According to documents obtained by Amnesty International, the joint venture sold copper to Burmese security forces while economic sanctions were still in place. 
Amnesty International's Corporate Crimes Researcher Meghna Abraham said:
"It's high time that the British government stopped allowing its overseas territory to be used as a haven for secrecy.  The evidence we have uncovered shows how companies can shelter behind British Virgin Islands' secrecy even for transactions which may breach the territory's criminal law. This demands a full investigation by the UK Government." 
Abuses by Burma security forces 
Amnesty also found how Burma's security forces have used excessive force in relation to mining activity.
Thousands of people have been evicted since 2011 to make way for the Letpadaung mine – which is run by Chinese company Wanbao and the Union of Myanmar Economic Holding (UMEHL), the economic arm of the Burma military. 
In December last year one woman died and several other people were injured when police opened fire on protesters at the Letpadaung site. 
In November 2012 security forces used white phosphorous, a highly toxic explosive substance, in a deliberate attack on villagers and monks who were protesting about the Letpadaung mine. More than 100 people were injured, with some suffering horrific burns and lifelong disability. Part of the attack was launched from inside the Wanbao company compound.  The use of white phosphorous by the security forces against the protestors constituted torture – a crime under international law. 
Amnesty International's Corporate Crimes Researcher Meghna Abraham said
"Burma offers the perfect storm of a rich natural resource base, a weak legal system and an economy dominated by military and special interests. 

 

"The government has forcibly evicted people, crushed all attempts at peaceful protest and displayed a complete unwillingness to hold companies to account.

 

"The Monywa project is a cautionary tale on investment in Myanmar, where corporate projects are too often marked by abuses and communities are ripped apart in the pursuit of profit. Construction of the Letpadaung mine must be halted immediately until rights issues have been addressed.

 

"People have suffered more than two decades of abuse linked to the business operations of Canadian, Burmese and now Chinese corporations. Investment can help Burma, but this project benefits the companies while harming the people.

 

"Foreign investments can help Burma but only if other governments such as UK have safeguards to make sure their companies do not abuse human rights."