British man facing up to five years in prison for documenting police abuse in Calais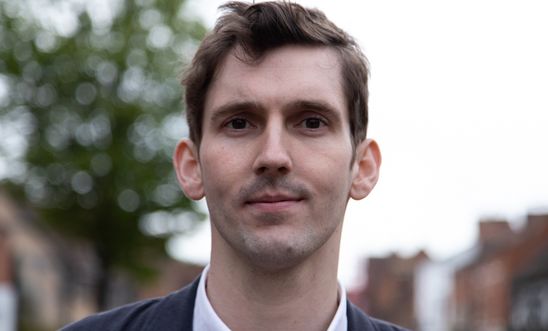 Tom Ciotkowski recorded on his mobile phone an official pushing and kicking a volunteer in Calais last year © Amnesty International/Imogen Putler
Tom Ciotkowski was observing French riot police preventing volunteers from distributing food to migrants and refugees in Calais
Trial begins in France on 15 May, if convicted Tom could face up to five years in prison and a fine of up to 7,500 Euros
'Tom's case is sadly emblematic of the harassment, intimidation and attacks that human rights defenders supporting migrants and refugees face' - Maria Serrano
Ahead of the trial of Tom Ciotkowski, a British man who documented police abuse against migrants, refugees and volunteers in Calais, Amnesty International has called for all charges to be dropped and for European governments to stop criminalising human rights defenders.
In July last year, Tom was observing French riot police preventing volunteers from distributing food to migrants and refugees in Calais. He recorded on his mobile phone an official pushing and kicking a volunteer. He was then charged with contempt and assault after he challenged the violent actions of a policeman against another volunteer.
The trial will start tomorrow at 12.30 BST on 15 May, at the Tribunal de Boulogne-sur-Mer in France. If convicted he could face up to five years in prison and a fine of up to 7,500 Euros. 
Maria Serrano, Amnesty International's Senior Campaigner on Migration, said
"Tom Ciotkowski is a compassionate young volunteer who was taking action to support migrants and refugees when he was arrested. He has committed no crime and is being unjustly targeted for documenting the abusive behaviour of the police in Calais.
"Tom's case is sadly emblematic of the harassment, intimidation and attacks that human rights defenders supporting migrants and refugees face at the hands of police in Calais. His case also reflects a wider European trend of criminalising acts of solidarity, as a way of discouraging others from standing up for human rights.
"Efforts by individuals and NGOs to help people in need should be lauded, defended and celebrated rather than criminalised. The outrageous charges against Tom Ciotkowski must be dropped – we need courageous, compassionate people like him more than ever."
Background
At the end of July 2018, Tom Ciotkowski was observing French riot police ID-checking volunteers who were trying to distribute food to migrants and refugees.
When Tom complained about the behaviour of the police, an officer approached him and another female volunteer, who he hit with a baton. When Tom asked the officer for his identification number and told the policeman not to hit women, he was pushed hard by an officer and fell backwards over a concrete barrier separating the pavement from the road. As Tom fell backwards, a passing lorry narrowly missed him.
He was then arrested, put in custody for 36 hours and charged with contempt and assault ("outrage et violence").
In May 2019, Tom filed a complaint against the police officer who pushed him and against other officers who provided reports stating false facts against Tom to support his arrest and prosecution.