Brazil: auditor calls out meat company JBS's claims over Amazon supply chain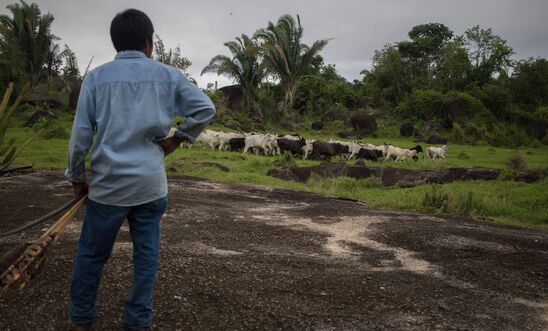 Cattle ranching is one of the major drivers of deforestation in Brazil's Amazon © Gabriel Uchida
Major Amnesty report recently showed firm sourced cattle illegally grazed in protected areas of Amazon
Norway-based auditor dismisses JBS claims over good practice
JBS needs to 'ensure its beef supply is actually and certifiably deforestation-free' - Richard Pearshouse
A former auditor monitoring the supply chain of the leading global meat packing company JBS has called out the firm for falsely claiming its operations in Brazil's Amazon region are deforestation-free, Amnesty International revealed today. 
In correspondence with Amnesty, the Norway-based independent auditor DNV GL Business Assurance, contracted by JBS to audit its supply chain between 2017 and 2019, has confirmed that it never audited JBS's indirect suppliers in Brazil and has noted that "the assessment report issued by DNV GL cannot be used as evidence of good practices throughout the entire supply chain." 
The correspondence from DNV GL says:
"Indirect suppliers have not been assessed and declared deforestation-free by DNV GL. JBS did not have systems in place to trace the indirect supply chain; thus indirect suppliers were not assessed during the audit. The Public Livestock Commitment does cover the indirect supply chain, but JBS had not implemented systems to meet this requirement."
Last week, Amnesty released a 70-page report - From Forest to Farmland - revealing how JBS had sourced cattle which had been illegally grazed in three protected areas of the Amazon in northern Brazil's Rondônia state in 2019. The report involved extensive field research, analysis of government data and expert satellite imagery analysis. 
Before publishing its report, Amnesty sought specific information from JBS about whether the company had processed any cattle from farms located in the three protected areas. The company responded by saying, "We do not purchase cattle from any farm involved in the illegal grazing within protected areas," claiming it had "an unequivocal zero deforestation approach throughout its supply chain".
JBS also went on to claim: 
"Independent audits conducted by leading global auditors DNV-GL and BDO over the past six years reveal that over 99.9% of livestock purchases by JBS, from farms located in the Amazon region, meet the company's social environmental criteria. This includes the zero-deforestation criteria."
Hours after Amnesty's report was published, Brazil's federal public prosecutor in Rondônia state announced her office would launch an investigation into Amnesty's findings.
Richard Pearshouse, Amnesty International's Head of Crisis and the Environment, said:
"The auditor DNV GL has essentially called out JBS for using its audits to gloss over the fact that JBS has failed to monitor its entire supply chain.

"Once again, this emphasises that JBS only monitors the final farms it buys cattle from, not where those cattle grazed beforehand. As our research has shown, in several cases in 2019 this included cattle grazed on illegal farms on deforested areas of protected Amazon rainforest.

"Amnesty International reiterates its call on JBS to promptly put in place an effective monitoring system of its entire supply chain, including its indirect suppliers, to ensure its beef supply is actually and certifiably deforestation-free."
'Complex task'
When the report's finding were put to JBS the company did not answer a question about monitoring indirect suppliers, instead noting that "the traceability of the entire beef supply chain is an industry-wide challenge and a complex task".
Amnesty did not find any evidence indicating that JBS is directly involved in human rights abuses in the three sites investigated. However, in all three, recent illegal land seizures have led to a loss of traditional lands, which are protected under Brazilian law. Indigenous land rights are protected under international human rights law and commercial cattle ranching is prohibited by law in the three sites.