Birmingham medic to run ten laps of White House in orange jumpsuit for Guantánamo detainee Shaker Aamer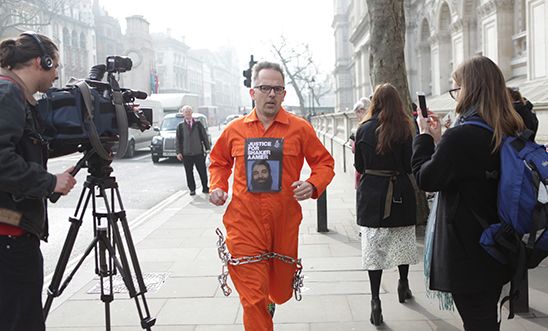 Dr Nicholl on his way to Downing Street last month © Amnesty International
A week ahead of London Marathon, Dr Nicholl's Washington stunt will highlight former UK resident's plight as part of transatlantic campaign
'I'm running for justice for Shaker' - David Nicholl
A Birmingham doctor is running ten laps of the White House in Washington in an orange jumpsuit and chains on Sunday 19 April to raise awareness of the plight of a Guantánamo detainee as part of his transatlantic campaign.
Dr Nicholl, 50, a consultant neurologist who lives in Hagley in Worcestershire, is in training for next week's London Marathon, which he also intends to run in an orange jumpsuit to focus attention on the case of Shaker Aamer, a former UK resident who has been held without charge or trial at the infamous Guantánamo detention centre for over 13 years.
In Washington Dr Nicholl will run a circuit around the White House (starting on the steps of Capitol Hill at 9am), running along the National Mall, past the Washington Memorial, to Lincoln Memorial then back to the White House, where he will complete ten laps of the White House before arriving (at approximately 10.30am) at the Pennsylvania Avenue/North Lawn view of the White House with an Amnesty International petition on Aamer's case for US President Barack Obama.
The 41,000-signature
petition
 calls for the UK and US authorities to urgently arrange Aamer's release and return to the UK unless he is charged and put on trial. Last month Dr Nicholl took the petition to the gates of Downing Street as part of the campaign to press for justice for Mr Aamer. 
Amnesty member Dr Nicholl, a long-term campaigner on Aamer's case who also ran the 2005 London Marathon for the detainee, is one of Amnesty's designated London Marathon
entrants
. He has the backing of the detained man's family for the run as efforts intensify to secure either a fair trial or an immediate release for 46-year-old Aamer. In January the Prime Minister David Cameron reportedly raised Aamer's case in face-to-face talks with US President Barack Obama in Washington, with Mr Obama reportedly saying the US authorities would "prioritise" the case. Last month a House of Commons debate saw the UK government supporting a motion calling on the US "to release Shaker Aamer from his imprisonment in Guantánamo Bay and to allow him to return to his family in the UK."
Dr Nicholl aims to complete the gruelling 26-mile London race event in one of Guantánamo's distinctive orange jumpsuits while also wearing chains and handcuffs. The jumpsuit - which Dr Nicholl will be wearing for the White House petition stunt - will also feature an image of Aamer's face and the slogan "Justice for Shaker Aamer". Dr Nicholl will be joined outside the White House by members of the Witness Against Torture campaign group.
David Nicholl said:
"I'm running for justice for Shaker. 

 

"Shaker has been held without charge or trial longer than the entire length of the US War of Independence and Civil War combined. What would George Washington or Abraham Lincoln make of a president like Barack Obama who said he'd close Guantánamo yet has completely failed to do so? The Commander-in-Chief appears to lack command. With Guantánamo we're talking about something that's completely outside international law and fundamentally against everything America stands for.

 

"What's so frustrating about Shaker's case is that he was 'cleared for transfer' years ago, but he's still languishing at this godforsaken camp.   

 

"I've always said that Shaker's case is about very basic principles - you don't lock someone up for years without giving them a proper trial. Since no charges have been brought, it's as simple as that. Shaker should be sent back to London to be with his family.

 

"I ran the London Marathon for Shaker a decade ago and never dreamt I'd be preparing to do it all over again. Whatever slight aches and pains I might feel as a result of doing the Marathon will honestly be as nothing compared to the years of torment Shaker and his family have gone through." 

 

Amnesty International UK Director Kate Allen said:

 

"Guantánamo has always been a travesty of justice and it's astonishing that over 100 detainees - including Shaker - are still held at this miserable place."
The last UK detainee
Aamer is the last of the UK nationals and residents still held at the notorious detention centre. He has been detained there since February 2002 despite never being charged or brought to trial. As long ago as 2007 he was "cleared for transfer" - apparently to Saudi Arabia - by the US authorities but Aamer remains at the camp for reasons that remain unclear. Last month Amnesty wrote to David Cameron seeking urgent answers over why Aamer is still detained. Meanwhile, there is growing urgency amongst campaigners amid reports that Aamer's mental and physical health have deteriorated significantly in the past year. Aamer has been held for long periods in solitary confinement and has taken part in protracted hunger strikes in protest at his incarceration. He is reported to have numerous ailments and last year was diagnosed with post-traumatic stress disorder.
Torture allegations 
Aamer was arrested by Afghan forces in late 2001 in Jalalabad, Afghanistan, and subsequently transferred to US custody. Aamer is originally from Saudi Arabia. His wife and four children are all British nationals who live in south London. Aamer had permission to live indefinitely in the UK on the basis of his marriage to a British national at the time of his original detention. 
Via his lawyers, Aamer has alleged he was subjected to torture and other ill-treatment, including severe beatings, while held in secret US detention in Afghanistan in early 2002. He says that, as well as US officials, men claiming to be MI5 officers were present at interrogations during which his head was "repeatedly banged so hard against a wall that it bounced". Aamer has also repeatedly alleged that he has been tortured and otherwise ill-treated at Guantánamo. According to his lawyers, Aamer has been the subject of hundreds of "Forcible Cell Extractions" at the camp, where a team of guards in riot gear forcibly remove a detainee from their cell. Aamer speaks fluent English and his lawyers understand he has been involved in protesting against conditions at the camp, including participating in hunger strikes and speaking out on behalf of other detainees. They believe he has been subjected to prolonged isolation and frequent ill-treatment as punishment for his protests over his indefinite detention.
13 years of Guantánamo
*122 men remain at Guantánamo.
*779 detainees have been held at the US detention centre at Guantánamo since 2002. 
*The last release of detainees occurred on 14 January 2015, when five Yemenis were transferred out of the detention centre. 
*Over 600 detainees have been transferred from Guantánamo to other countries since 2002 without being the subject of criminal charges.
*Nine detainees have died in custody in Guantánamo. 
*Guantánamo was earmarked for closure by January 2010 at the latest by President Obama shortly after his inauguration as President in January 2009.
Last year Amnesty launched a global Stop Torture
campaign
.