Belfast joins 'Black Monday' global protest against Polish abortion laws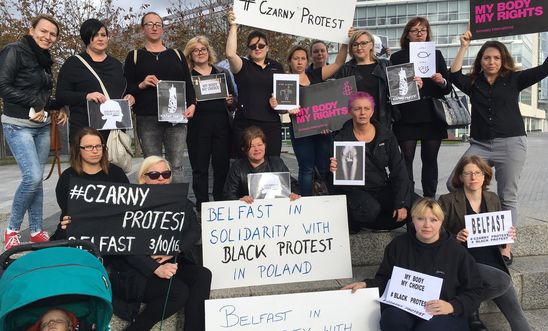 "Inhumane abortion laws are already the reality for women in Northern Ireland and could soon be the same for women in Poland." – Adrianne Peltz
Belfast joined a global protest today against proposed new restrictive abortion laws in Poland.
Polish women now living in Northern Ireland, joined with local supporters from Amnesty International and other groups to protest against proposed changes to the law which would introduce a near-ban on access to abortion.
The draconian law proposals would be similar to those already in force in Northern Ireland, where women are banned from abortion even in cases of fatal foetal abnormality and when the pregnancy is a result of rape or incest.
The Belfast vigil was held in solidarity with women in Poland who have gone on strike today in protest against proposals for the abortion ban. Protestors wore black as a sign of mourning for their reproductive rights.
Edyta Majcher, from Poland, one of the organisers of today's protest, said:
"The proposed law is a disaster waiting to happen. We are protesting because it is important that women in Poland have choice. Choice to have children when they want them, to be able to receive medical treatment while pregnant, or to have an abortion when their health and life is at risk.
"Women and girls should not be forced to give birth and raise children conceived as result of rape or where there are fatal foetal abnormalities. We cannot tolerate criminal investigation of women who have accidental miscarriages, or of the medical professionals who care for them and who will fear to offer proper treatment of their patients in case they lose their licence.
"Here in Northern Ireland women already face similar draconian laws. We want to see those laws changed and we don't want Poland going down the same road of denying women their human rights."
Adrianne Peltz, Amnesty International campaigner, said:
"This demonstration is to show that women's human rights to reproductive healthcare must not be denied whether in Poland, in Northern Ireland or anywhere else.
"In Northern Ireland a girl raped by her own father has no choice but to give birth. A woman with a fatal foetal impairment in pregnancy is similarly denied the right to a lawful termination. These inhumane laws are already the reality for women in Northern Ireland and could soon be the same for women in Poland.
"That is why Amnesty International has joined with Polish women today in Belfast in protesting against these nightmare laws. It is time legislators in in both countries started to respect the rights of women to healthcare rather than threatening them and their doctors with jail."