Belarus: Urgent action needed to free Roman Protasevich after 'horrifying' forced confession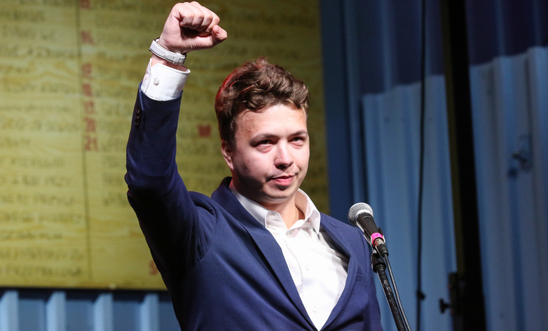 Roman Protasevich speaking at a rally © Michal Fludra/NurPhoto/Getty
Amnesty International launches urgent action following televised statement by Roman Protasevich in which he appears distraught and injured
Roman and his partner Sofia Sapega remain at risk of torture and other ill-treatment
'Their arrest is arbitrary and unlawful and its circumstances are nothing short of horrifying' - Marie Struthers
Responding to the ongoing detention of Roman Protasevich, after a video showing him "confessing to organising mass disorders in the city of Minsk" was broadcast on state-run Belarusian media yesterday, Marie Struthers, Amnesty International's Director for Eastern Europe and Central Asia, said:
"We call on our supporters worldwide to demand the immediate release of Roman Protasevich and Sofia Sapega. Their arrest is arbitrary and unlawful, and its circumstances are nothing short of horrifying.

"Do the Belarusian authorities truly believe that they can fool the world by televising a prisoner's forced 'confession' and have him state that he is being treated well?

"Given the patterns of human rights violations of the Belarusian secret services, we are seriously concerned that the health and life of Roman Protasevich is in danger. We believe that his partner Sofia Sapega, a Russian citizen, is being detained only to exert further pressure on Raman." 
Background 
On 23 May, Roman Protasevich, who until September last year led the biggest Belarusian opposition Telegram channels NEXTA and NEXTA Live, and his partner Sofia Sapega, were detained at Minsk airport after their Lithuania-bound flight made an emergency landing following a purported bomb threat which was subsequently reported as unsubstantiated. A MiG-29 fighter jet belonging to the Belarusian Air Force escorted the civilian plane to an airfield in Minsk. 
Roman Protasevich, 26, and NEXTA co-founder Stsyapan Putsila were added to Belarus's list of "individuals involved in terrorist activity" in November 2020, solely for their journalism. The two were also charged with "incitement of mass riots", "gross violation of public order" and "incitement of social hatred" against public officials and law enforcement agents. These crimes carry penalties of up to 20 years in prison.
The reason for the detention of Sofia Sapega, 23, has not yet been officially disclosed.