Belarus: Students expelled, charged and jailed for opposing Lukashenka - New Report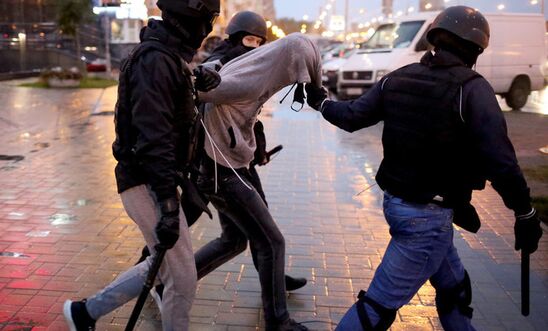 Belarusian students are being arrested, prosecuted for peaceful activism © TUT.BY/AFP/Getty Images
Hundreds of students punished for protesting against last year's contested presidential election
Report comes as journalist Roman Protasevich's Ryanair flight forced to make emergency landing in Minsk
'We call on student unions and student leaders across the world to show solidarity with their peers in Belarus' - Aisha Jung
Belarusian students are being arrested, prosecuted for peaceful activism and expelled from educational institutions for their involvement in the continuing protest movement against last year's disputed presidential election, Amnesty International said today.
In a new report, Amnesty describes brutal reprisals against students and reveals the hugely disruptive impact of state repression of academic life in Belarus.
The report comes after prominent Belarusian journalist Roman Protasevich was apprehended when his Ryanair flight from Greece to Lithuania was forced to make an emergency landing in the Belarus capital Minsk yesterday. Amnesty has described the episode as "chilling", and an "apparent act of air piracy"
Amnesty's report shows how the scale of harassment, persecution and violence against students in Belarus is unprecedented in the country's post-independence history. 
Last October, President Lukashenka called for universities to dismiss students who protested against the disputed presidential election results. At least 153 students have been arbitrarily expelled from universities and many have fled to neighbouring countries fearing for their safety. Forty-two students have become suspects in criminal cases and six have been sentenced to jail terms.
According to the Belarusian Students' Association, at least 466 students have been detained, almost a third of whom are women. Many have been put under administrative detention or fined an average of €120, a quarter of the average monthly salary in Belarus.
In one of the most brazen attacks on students, the authorities also launched a criminal investigation against 11 student activists and one teacher, many of whom were apprehended at their homes on 12 November, a date which has become known as "Black Thursday". Their trial started earlier this month and is expected to continue until mid-June. All the students face charges under Article 342 of the country's criminal code ("organisation and preparation of actions that grossly violate public order") which carries a prison sentence of up to two years.
Anastasia Bulybenka, 19, is one of the defendants. On the day of her arrest, she was asleep in the apartment she shares with her mother when she heard a voice telling her to get up. She opened her eyes to see six unknown men standing around her after they had forced entry into her apartment. Anastasia has been held in pre-trial detention since her arrest more than six months ago - in all that time, her mother, Aksana, has been granted only one 45-minute meeting with her.
Aksana told Amnesty:
"For me, the whole world stopped, and I just looked at her ... She is a grown up now, the child was completely gone from her face. And she wrote this to me later in a letter saying, 'I left our home on 12 November as a child and I will return as an adult'."
Aisha Jung, Amnesty International's Senior Campaigner on Belarus, said:
"Students and teachers who protested across Belarus began their current academic year in a country radically transformed by events last summer. From the outset, it was clear that their dissent would not be tolerated by either the authorities or many university administrations.

"The Belarusian authorities must abide by their obligations under international human rights law and respect students' rights to peacefully express their opinions, together or in association, and to peacefully demonstrate without fear of harassment or reprisals.

"We call on student unions and student leaders across the world to show solidarity with their peers in Belarus and demand that their countries' authorities take immediate steps to put pressure on Alyaksandr Lukashenka's government to end the strangulation of public life, of academic life, of the brightest youth in the country."