Belarus: Scathing prison sentence for opposition leader is politically motivated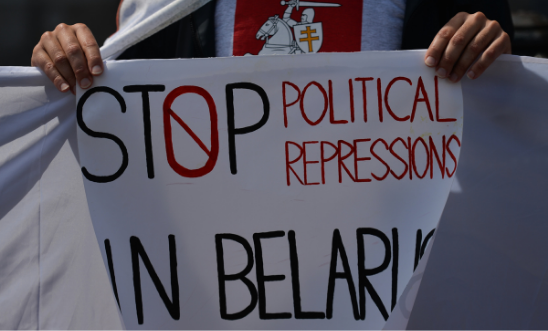 Protest For Free Belarus In Dublin © Artur Widak/NurPhoto
Homel Regional Court today sentenced Syrahei Tsikhanouski to 18 years in prison
Reacting to the 18-year prison sentence handed down today to Syarhei Tsikhanouski who was arrested in May 2020 after announcing his intention to run for the Belarusian presidency, Marie Struthers Amnesty International's Director for Eastern Europe and Central Asia, said: 
"This is today's Belarus, where those who wish to oppose the authorities face a terrible choice between languishing in prison or leaving their homeland. 

"Syarhei Tsikhanouski's case is emblematic of the repression unleashed by the Belarusian government against its own people. He was arrested on trumped-up riot charges just weeks after announcing his intention to run for the presidency. His wife, Svyatlana Tikhanouskaya, who ran in his place, was forced to leave the country after being harassed and intimidated by the authorities.

"Syarhei Tsikhanouski and his associates have been unlawfully persecuted on overtly political grounds and must be freed immediately.

"The international community must not forget about them and should exercise as much pressure on Minsk as possible to end their imprisonment and the relentless repression in Belarus." 
The sentencing
Syrahei was found guilty of "organising mass riots", "distribution of materials aimed at inciting social hatred against representatives of the authorities and law enforcement agencies", "obstruction of voting rights", and "organising group actions that grossly violate public order". 
His associates, Mikalai Statkevich, leader of the unregistered political party Narodnaya Hramada was sentenced to 14-years in prison, Ihar Losik received 15 years, Artsyom Sakau 16 years, Uladzimir Tsyganovich 15 years and Dmitry Popov received 16 years on similar charges.
Their trial began in late June this year behind closed doors. All hearings took place not in a court room but in the Homel pre-trial detention center. No information about the court proceedings was made available.
Amnesty analysed their case and concluded that all charges are unfounded and politically motivated.