Belarus: medics paying 'heavy-price' in Lukashenko's crackdown - new briefing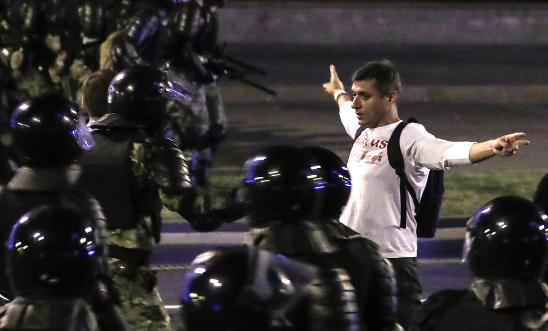 Protests after Belarusian presidential election © Valery Sharifulin/TASS
Health professionals at centre of human rights crisis in Belarus
Dozens dismissed, with many barred from medical employment
'I saw all these mutilated people with broken bones, faces ripped to pieces, swollen heads the size of a balloon' - Halina, medical nurse
Health workers in Belarus who provided emergency medical care during anti-government demonstrations or spoke out against protesters' deaths and injuries are facing brutal reprisals from the authorities, Amnesty International said today in a new 10-page briefing.
Despite chronic staff shortages, dozens of health workers have been dismissed as part of an ongoing government crackdown on critics, with many barred from medical employment, while countless others have faced threats and prosecution.
In its briefing, Amnesty tells the stories of four health workers who described how mass dismissals and disbarments have contributed to a catastrophic situation in many medical facilities.
Halina, a medical nurse and a longtime activist, was arrested last September and told by hospital administrators to resign. After refusing, Halina was threatened by two men in plain clothes who said they would make her children "disappear". Afraid for her family's safety, Halina left her job and is now unable to find new employment. 
Halina spoke to Amnesty about her experiences and the demonstrations last August:
"I saw all these mutilated people with broken bones, faces ripped to pieces, swollen heads the size of a balloon. We weren't allowed to write down descriptions of injuries and were constantly threatened with reprisals."
Last November, peaceful protester Raman Bandarenka died in hospital after being severely beaten in police custody. Officials claimed his injuries resulted from a drunken street fight. However, Artsyom Sarokin, an anesthesiologist who treated him, contradicted this account, and shared Bandarenka's medical reports with journalist Katsyaryna Barysevich. Both were convicted of "disclosing medical secrets". Sarokin was fined and given a suspended prison sentence, while Barysevich was sentenced to six months in a penal colony. 
Bruce Millar, Amnesty International's Eastern Europe Deputy Campaigns Director, said:
"Alyaksandr Lukashenko's government is systematically destroying the most valuable institutions in Belarusian society - from cultural organisations and student unions to journalists and the medical community.

"Health workers on the frontline have paid a heavy price for their integrity, losing their livelihoods and in some cases their human rights.

"The Belarusian authorities' intolerance of peaceful dissent is eroding the health care system and the medical community, amid a global pandemic.

"The government does not care about people's right to health and other human rights."
Individuals at risk
Many identifying details - such as last names of medical professionals, their cities of residence and even names of hospitals where they had worked - have been omitted in Amnesty's briefing for security reasons.