Belarus: former presidential contender jailed for 14 years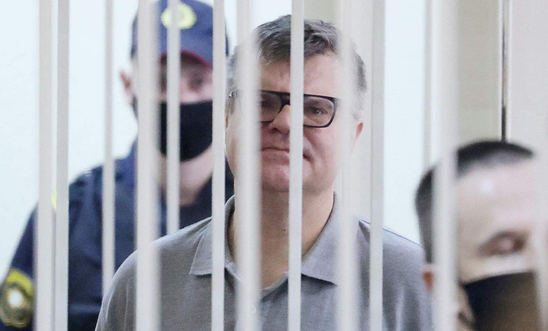 Viktar Babaryka, the former head of Belgazprombank, had been a presidential hopeful at the 2020 election © Ramil Nasibulin\TASS via Getty Images
Viktar Babaryka sent to penal colony after being found guilty on 'politically-motivated' bribery and money-laundering charges 
Prominent banker had been presidential hopeful at the 2020 election 
'Viktar Babaryka has been targeted because he dared to challenge Alyaksandr Lukashenka' - Marie Struthers
Responding to today's jailing of the former Belarusian presidential contender Viktar Babaryka by a court in Minsk, Marie Struthers, Amnesty International's Eastern Europe and Central Asia Director, said: 
"This is a politically-motivated sentence that further darkens the already grim picture of fear and despair in Belarus. 

"Viktar Babaryka has been targeted because he dared to challenge Alyaksandr Lukashenka and is now paying the price for his courage with his liberty. 

"Viktar Babaryka is a prisoner of conscience, prosecuted solely for the peaceful exercise of his human rights, including freely expressing his political opinions. He, along with those arrested alongside him simply for supporting his presidential campaign, must be immediately and unconditionally released." 
Arrested with his son
Earlier today, the Supreme Court of Belarus sentenced Viktar Babaryka - the former head of Belgazprombank and presidential hopeful at the 2020 elections - to 14 years in a high-security penal colony after finding him guilty of the politically-motivated charges of "receiving bribes on an especially large scale, organised by a group" (Article 430(3) of the Criminal Code) and "money laundering" (Article 235(2)). 
Babaryka was also fined the equivalent of £41,000 and ordered to pay more than £13m as "compensation for the damage caused". 
In May 2020, Babaryka declared his intention to run for the presidency but was refused registration as a candidate. The following month he was arrested together with his son Eduard Babaryka, who had acted as his campaign chief. Eduard Babaryka was charged with "tax evasion" (Article 243 of the Criminal Code) and his case is still subject to investigation.