Beijing 2022: Olympic skater gives away gold medal to protest China's human rights abuses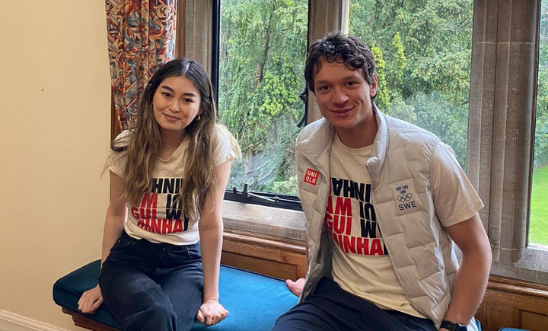 Olympian gives medal to daughter of imprisoned bookseller in China © Private
Swedish Olympic champion Nils van der Poel gives his gold medal to Hong Kong dissident's daughter
'His decision to take a stand against China's crackdown on freedom of expression should spur governments into action on this urgent issue' - Alkan Akad
Olympic champion Nils van der Poel gave his Beijing 2022 gold medal to the daughter of a Hong Kong dissident to protest the Chinese Government's devastating human rights record.
The Swedish athlete gave the men's 10,000 metre speed skating medal he won at Beijing 2022 to Angela Gui who has campaigned tirelessly for the release of her father Gui Minhai who was imprisoned in China on unsubstantiated 'spying' charges.
Alkan Akad, Amnesty International's China Researcher, said:
"Nils van der Poel was a sporting champion at the Olympics, and today he is a champion of human rights. His brave decision to take a stand against China's crackdown on freedom of expression should spur governments into action on this urgent issue.

"While China uses the Olympic and Paralympic Games to polish its global image, millions of people suffer from its human rights violations: the Uyghurs held in internment camps; the sexual abuse survivors targeted for speaking up; or those like Gui Minhai who have been jailed simply for advocating views the government does not like.

"Governments across the world should follow Nils' lead by stepping up efforts to hold the Chinese Government to account over its treatment of the many others jailed solely for peacefully exercising their rights."
Van der Poel's move comes one week before the start of the Beijing 2022 Paralympics.
Van de Poel told Amnesty International: "I wish for the human rights issues in China to improve and for Gui Minhai to be set free."
Angela Gui has campaigned tirelessly for her father's release and says she has faced intimidation from Chinese state agents in an attempt to silence her. She said: "It feels important to me that this medal represents solidarity with political prisoners like my father, and the countless other victims of Beijing's human rights violations."
Gui Minhai is one of five Hong Kong–based publishers and booksellers who disappeared in 2015 after publishing books critical of the Chinese government. He was later sentenced to 10 years in prison in secret.
He is among hundreds of writers, lawyers, activists and academics who have been targeted as part of the Chinese Government's long-running campaign to crush all forms of dissent.
Chinese dissidents
In China, dissidents including writers, academics and journalists are systematically subjected to monitoring, harassment, intimidation, unlawful arrest and detention.
Those targeted include five individuals featured in Amnesty International's Beijing Olympics 'Free the Five' campaign.
Amnesty action
The Chinese Government must release Gui Minhai immediately. Pending his release, he must be granted access to his family, lawyers of his choice, consular support and adequate medical care. To take urgent action, please see: https://www.amnesty.org.uk/urgent-actions/imprisoned-bookseller-risk-ill-treatment