Call on Barack Obama to appoint woman as official driver during today's Saudi visit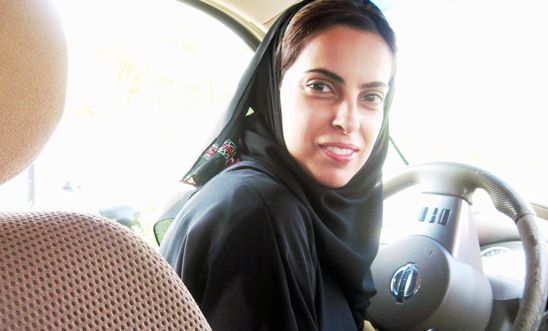 A Saudi Arabian woman defies the ban on driving by joining the women2drive campaign © Private
Move would signal US president's 'dismay' at country's ban on women's drivers 
US President Barack Obama should signal his "dismay" at Saudi Arabia's notorious ban on women drivers by appointing a woman as his official driver during his visit to the country today.
Barack Obama's visit coincides with a local Saudi campaign calling for an end to the driving ban planned for tomorrow. Amnesty is also asking Obama to meet local activists and raise the plight of women - among a host of other human rights issues - with the authorities. 
Saudi Arabia is the only country in the world that forbids women to drive, and women face entrenched discrimination on many other levels. Under its restrictive "guardianship" system, women need the permission of a male guardian to get married, to travel, undergo certain types of surgery, accept paid employment or enrol in higher education. 
Amnesty International Middle East and North Africa Deputy Director Hassiba Hadj Sahraoui said:
"As well as appointing a woman driver during his visit, President Obama should try to meet Saudi women who have defied the driving ban.  

"For too long, the USA has shied away from publicly confronting Saudi Arabia over its human rights record, largely turning a blind eye to a mounting catalogue of abuses.

"It is crucial that President Obama sends a strong message to the government of Saudi Arabia that its gross human rights violations and systematic discrimination are unacceptable. A failure to do so would undermine the human rights principles the USA purports to stand for."
President Obama's visit also comes as Saudi Arabia steps up its crackdown on human rights activists, having recently introduced an anti-terror law that criminalises virtually all forms of peaceful dissent. Human rights defenders in the country have been harassed, rounded up and imprisoned in a ruthless campaign to crush peaceful activism.
Meanwhile, the authorities continue to ban peaceful public gatherings and have repeatedly refused to pass a law that would enable independent human rights groups to be established. They have also sought to control and block social media. Migrant workers and the country's Shia Muslim community also face widespread and systematic discrimination.
Torture and other ill-treatment during detention are rife and carried out with impunity in Saudi Arabia, and the courts routinely rely on "confessions" extracted under torture.
Corporal punishment such as flogging and amputation continue to be used extensively, and the country executed at least 79 people last year - the fourth highest number recorded by Amnesty in its recently-published global death penalty report.