Bangladesh: Halt relocation of Rohingya refugees to remote island immediately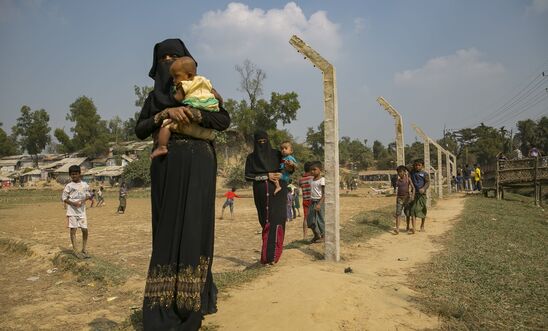 Rohingya refugees walk near a fence that is being constructed around the refugee camp on December 11, 2019 © Getty Sub Sept/Oct 2020
In response to the relocation of hundreds of Rohingya refugees to the Bhashan Char, a remote island in the Bay of Bengal, Saad Hammadi, Amnesty International's South Asia Campaigner, said:
"The authorities should immediately halt relocation of more refugees to Bhashan Char, return those on the island to their families and community in mainland Bangladesh.
"The relocation of so many Rohingya refugees to a remote island, which is still off limits to everyone including rights groups and journalists without prior permission, poses grave concerns about independent human rights monitoring.
"It is crucial that the Bangladeshi authorities let the UN, rights groups and humanitarian agencies carry out independent assessments of Bhashan Char's habitability first before taking any steps to relocate people there. No relocation plan, either to Bhashan Char or to another location, can be undertaken without the full and informed consent of the individuals involved."
The Bhashan Char - which in English translates to "floating island" – is a silt island developed by the Bangladesh Navy, where the Bangladeshi authorities plan to relocate 100,000 Rohingya refugees.
Amnesty obtained a partial list of the Rohingya families that the government of Bangladesh identified for relocation to Bhashan Char. In interviews with Amnesty, five family members - who represent 23 refugees on the list for relocation - said that they signed up to relocate to Bhashan Char out of compulsion rather than choice.