Bangladesh: delay in Rohingya return to Myanmar a temporary relief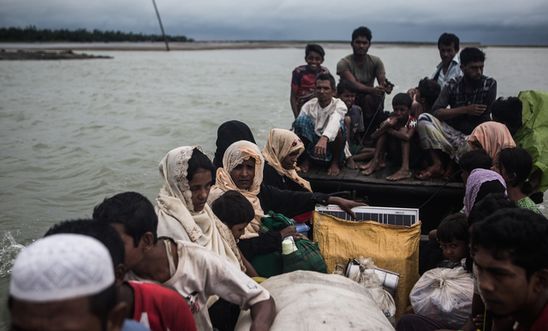 Rohingya Crisis - Bangladesh © Andrew Stanbridge / Amnesty International
Announcement may temporarily protect Rohingya refugees from being returned to face further abuses
'Any arrangement on returns must first address the conditions of apartheid that the Rohingya have fled from' - Charmain Mohamed
The Bangladesh government's announcement that it is to postpone the return of Rohingya refugees to Myanmar is a welcome relief for hundreds of thousands currently living in Bangladesh, Amnesty International said today.
Charmain Mohamed, Amnesty's Head of Refugee and Migrant Rights, said:
"Given the scale and horror of the abuses inflicted on the Rohingya, any arrangement on returns must first address the conditions of apartheid that the Rohingya have fled from.

"Many refugees no longer have homes to go to since the military burned them to the ground; nor is there any guarantee that they will be free from ongoing discrimination and violence under the apartheid regime they so recently fled.

"While it is positive that Bangladesh has acknowledged the need for further preparations and delayed the repatriation process, there would need to be a wholesale reform of Myanmar's treatment of the Rohingya before any returns could truly be considered safe or voluntary.

"Today's announcement may temporarily protect Rohingya refugees from being returned to face further abuses – but they need a sustainable solution." 
Implementing a returns arrangement finalised last week in its current form would have put the safety and rights of more than 650,000 Rohingya who fled a brutal military crackdown last year in serious jeopardy.
Amnesty has highlighted serious human rights concerns with the returns arrangement signed by the Myanmar and Bangladesh governments.
The current arrangement envisions possible UN involvement, but only in Bangladesh, yet remains unclear on the role of the UN Refugee Agency in assessing returns.
On 16 January 2018, the Myanmar government announced that it would accept the return of 1,500 refugees every week.
While any Rohingya who genuinely wish to return to Myanmar have an inalienable right to do so, Amnesty is concerned that the current arrangement does not ensure that their returns are safe, voluntary or dignified, as required under international law, and would in fact be coerced.
The arrangement remains problematic for several reasons, including:
The emphasis on timeframe and quotas, which increases the risk that Rohingya would be coerced into returning.
Current conditions in Myanmar, where the authorities have refused to acknowledge the scale of the violations and crimes committed in last year's crackdown.
Requirements that Rohingya who wish to be repatriated provide evidence of past residence in Myanmar – an impossibility for many Rohingya, who have long been denied citizenship in Myanmar and deprived of documentation. Many of whom will have lost any documents while fleeing military violence.
The fact that UNHCR is not guaranteed access to potential returnees at all stages of the process.
A failure to explicitly acknowledge the right of the Rohingya to return to Myanmar if they wish to do so or protected against forcible returns if they do not.
Amnesty is urging the governments of Bangladesh and Myanmar not to contemplate the return of Rohingya to Myanmar until conditions meet the standards for safe, voluntary and dignified returns. Credible measures to include refugees in decision-making affecting them must also be assured