Bahrain: 'outrageous' five-year jail sentence against Nabeel Rajab upheld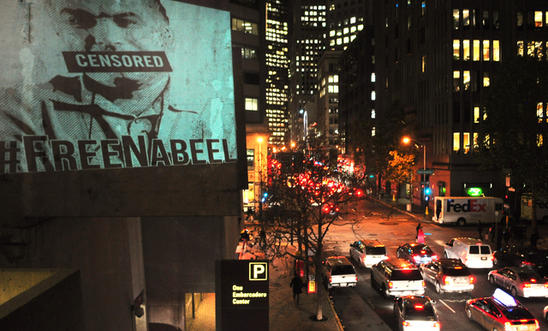 Image of Nabeel Rajab projected by Amnesty USA activists in San Francisco in 2012 © Amnesty International (Tina Xu)
'The authorities must immediately release Nabeel Rajab and drop all charges against him' - Lynn Maalouf
Responding to news that a five-year prison sentence against prominent Bahraini human rights activist Nabeel Rajab has this morning been upheld, Lynn Maalouf, Amnesty International's Middle East Research Director, said:
"The Bahraini Court of Appeal has missed a vital opportunity to do the right thing and set Nabeel Rajab free.

"His ongoing detention is further proof of the Bahraini authorities' relentless determination to squash the right to freedom of expression and silence any peaceful criticism.

"It is absolutely outrageous that he has to spend another single day behind bars solely for expressing his opinion online.

"The authorities must immediately release Nabeel Rajab and drop all charges against him."
In February, Mr Rajab was sentenced to five years in prison in relation to posts and retweets shared on his Twitter account regarding alleged torture in Bahrain's Jaw prison, and the killing of civilians in the Yemen conflict by the Saudi Arabia-led coalition.
Rajab is now expected to pursue a final appeal before Bahrain's Court of Cassation.
Harassed for years
Nabeel Rajab, the president of the Bahrain Center for Human Rights, has for years been harassed and intimidated for his peaceful human rights work, and has been in and out of prison since 2012 on various charges. He has also been banned from leaving Bahrain since November 2014 and has been detained since June 2016.
Earlier this year, he was handed an additional two-year prison sentence for TV interviews he gave in 2015 and 2016. The Court of Cassation in Manama upheld his sentence on 15 January 2018, convicting him of "disseminating false news, statements and rumours about the internal situation of the kingdom that would undermine its prestige and status".
UK urged to support human rights defenders like Rajab
Kate Allen Amnesty International UK Director, said: 
"The level of danger facing activists worldwide has reached crisis point. Every day people are threatened, tortured, imprisoned and killed for what they fight for, believe in or simply for who they are. 

"The protection of human rights defenders must be put at the heart of the Foreign Secretary's vision of 'Global Britain' if the UK is to be a credible voice on human rights post-Brexit. Now is the time for the UK to develop a coherent strategy on tackling the global surge in repression of human rights defenders."