Bahrain: Human rights activist Nabeel Rajab released after four years in jail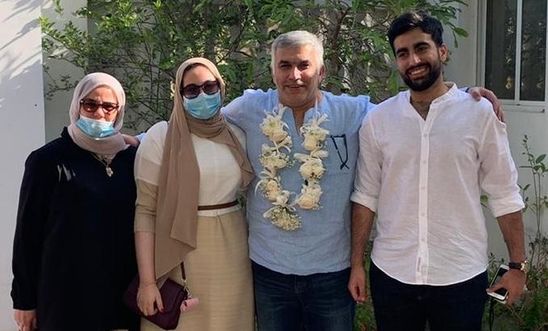 Nabeel Rajab was released earlier today after a court agreed to pass an alternative to the jail term he received, according to one of his lawyers © Private
Nabeel has repeatedly been targeted for his human rights work and peaceful criticism over the past two decades
While the terms of his new sentence are not yet clear, they could include alternative sanctions such as house arrest, exclusion orders, or restraining orders
'Nabeel's release must now be accompanied by the quashing of his conviction and sentence, the dropping of any outstanding charges brought against him, and an end to the injustice he has been put through' - Lynn Maalouf
Responding to the release of human rights activist Nabeel Rajab on a non-custodial sentence in Bahrain today, Lynn Maalouf, Amnesty International's Middle East Research Director, said:
"It is a relief that Nabeel Rajab is finally reunited with his family, who bravely continued their relentless public campaign for this day to come.

"While this is a moment to celebrate, it is impossible to forget that he has spent almost four years unjustly separated from them, or to forget the many other peaceful activists who remain behind bars in Bahrain.

"Nabeel's release must now be accompanied by the quashing of his conviction and sentence, the dropping of any outstanding charges brought against him in relation to his expression of peaceful opinion, and an end to the injustice he has been put through.

"Instead of releasing him on a non-custodial sentence, the authorities must quash all sentences brought against him and ensure his access to remedy for the violations he has suffered during this time.

"Bahrain's authorities must also release all peaceful activists who remain detained solely for peacefully exercising their right to freedom of expression and other human rights.

"With fears around an outbreak of COVID-19 in prisons, they must urgently consider further measures to reduce the prison population and ensure the right to health of all detainees."
Ordeal not yet over
Nabeel Rajab was released earlier today after a court agreed to pass an alternative to the jail term he received, according to one of his lawyers, Mohamed Al Jishi. He will serve a non-custodial sentence for the remaining three years of his initial sentence.
While the terms of the sentence are not yet clear, they could include, as per Law Number (18) of 2017, alternative sanctions such as house arrest, exclusion orders, or restraining orders.
Targeted for speaking out
Nabeel Rajab is a leading human rights activist in Bahrain who has repeatedly been targeted for his human rights work and peaceful criticism over the past two decades. Prior to this latest four-year detention, he was repeatedly imprisoned and released in 2012, 2014, and 2015.
In 2002, he co-founded the Bahrain Centre for Human Rights which – despite having its license revoked in 2004 – remains one of the leading human rights organisations working in Bahrain. Abdulhadi Al-Khawaja, a fellow co-founder, remains unlawfully detained.
Nabeel Rajab was arrested on 13 June 2016 in relation to comments published on his Twitter account in March 2015 regarding the armed conflict in Yemen, when the Saudi-led coalition launched its military campaign, and allegations of torture in Jaw prison following a prison riot. He remained in detention throughout the investigation and subsequent trial and appeal. On 31 December 2018, the Cassation Court confirmed the five-year prison sentence on charges of "spreading false rumours in time of war", "insulting public authorities" and "insulting a foreign country".