Bahrain: death sentences against two men upheld despite torture evidence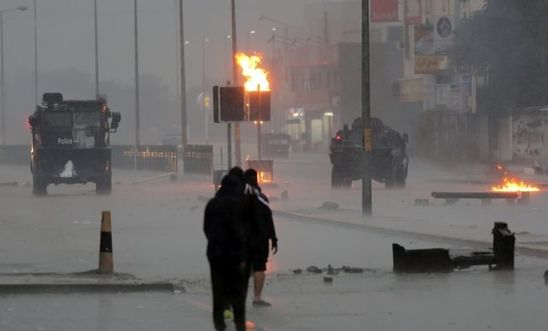 Protests have raged on in Bahrain for nearly a decade, with the authorities imposing numerous death sentences © Stringer/Anadolu Agency/Getty Images
Hotel worker and airport security employee were arrested over explosion that killed policeman in 2014
One man refused to confess despite beatings and electric shocks, while other forced to incriminate them both after being suspending by limbs and beaten for several days
Government doctors have themselves described how the two men were tortured
Responding to news that a Bahraini court has today upheld death sentences against two men - Mohamed Ramadhan and Hussain Moosa - despite evidence they were tortured into confessing to involvement in the killing of a police officer in 2014, Lynn Maalouf, Amnesty International's Middle East Research Director, said:
"This sets a disturbing new precedent in Bahrain's history of contempt for due legal process.

"Mohamed Ramadhan and Hussain Moosa should never have been convicted on the basis of a fabricated so-called confession extracted through torture. 

"Now, despite the emergence of evidence from the Bahraini government itself supporting the defendants' reports of torture, the court system has once again upheld the decision to put them to death. 

"We call on the Bahraini authorities to immediately quash Ramadhan and Moosa's convictions and sentences."
Evidence of torture
Bahraini security forces originally arrested Hussain Moosa, a hotel employee, in February 2014, with Mohamed Ramadhan arrested the following month at Bahrain International Airport where he worked as a member of security.
The two men were taken to Bahrain's Criminal Investigations Department where they were tortured during interrogation. Ramadhan refused to sign a "confession", though he was subjected to beating and electrocution. Moosa said he was coerced to "confess" and incriminate Ramadhan after being suspended by the limbs and beaten for several days.
On 29 December 2014, a court sentenced the two men to death for the killing of a policeman, who died in a bomb explosion in al-Deir, a village northeast of the capital Manama, on 14 February 2014. Bahrain's High Criminal Court of Appeal upheld their conviction and death sentences on 27 March 2015, and the Court of Cassation confirmed them on 16 November 2015. Ten other people who were sentenced to between six years and life in prison in the same case, also had their sentences upheld. 
In March 2018, Bahrain's Special Investigation Unit body sent the Office of Public Prosecution a memorandum describing medical reports by doctors of the Ministry of Interior consistent with Ramadhan's claim that he had been tortured, recommending a review of the trial. On 22 October 2018, the Court of Cassation suspended the death sentences and ordered the High Criminal Court of Appeal to re-examine the case under a new panel of judges. Bahrain's High Criminal Court of Appeal today upheld the two men's death sentences.