Asia and the Pacific Islands: Height of Covid-19 'deadliest year on record' for transgender people should be governments' wake-up call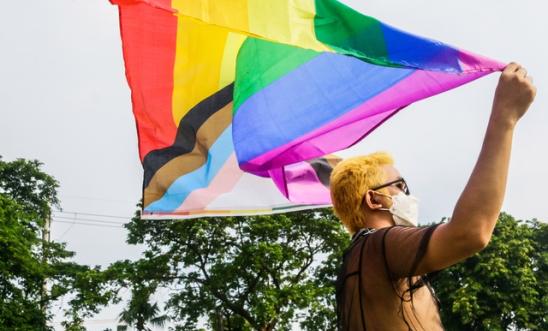 © 2022 SOPA Images
In the height of Covid-19, 375 trans and gender diverse people reported to have been killed globally in one year
Amnesty documented discrimination, violence and marginalisation of transgender people in 15 countries
'Governments must not turn away from trans people's suffering but address the structural conditions and inequalities that shape their everyday lives' - Nadia Rahman
The dire state of transgender people's rights to healthcare, housing, and employment in Asia and the Pacific Islands worsened at the height of the Covid-19 pandemic, Amnesty International said today in a new report.
In the 52-page report - "Pandemic or not, we have the right to live" - Amnesty documented discrimination, violence and marginalisation of transgender people in 15 countries - Bangladesh, India, Indonesia, Japan, Mainland China, Malaysia, Pakistan, Philippines, Singapore, South Korea, Sri Lanka, Taiwan, Thailand, Tonga and Viet Nam - revealing that transgender people suffered disproportionately under restrictions to curb the spread of the virus, at the same time that they were excluded from receiving government assistance to help people cope with the impact of the pandemic.
Nadia Rahman, Amnesty International's Researcher and Policy Advisor on Gender, said:
"The pandemic and governments' responses to it have laid bare the many barriers that transgender and gender diverse people in Asia and the Pacific Islands must navigate every day to meet their basic needs.

"Even before Covid-19, transgender people struggled to find safe housing, employment in the formal sector and adequate healthcare, but the pandemic made them even more vulnerable.

"The pandemic should be a wake-up call to governments to build more inclusive and sustainable economies and societies for trans and gender diverse people, especially in the face of future health and climate crises.

"The first step is to ensure individuals can easily and quickly change their legal name and gender on official ID documents, which is crucial to accessing their rights to essential services on an everyday basis.

"The culturally rich history of transgender and gender diverse people in many countries across the Asia Pacific, and indeed the world over, has been overshadowed by structural discrimination, violence and stigma.

"Governments must not turn away from their suffering but address the structural conditions and inequalities that shape trans people's everyday lives, choices and opportunities, which, if left unchanged, will continue to make them particularly vulnerable to future crises." 
As lockdowns were introduced at the height of the pandemic, transgender people faced numerous challenges including a loss of income, food insecurity, safe housing, problems in accessing gender-affirming treatment, increased domestic violence and a notable absence of social protection support. These are all part of systemic issues countries  in the region need to address urgently, to comply with their human rights obligations.
'No money and starving'
Discrimination and stigma mean that the overwhelming majority of transgender people in the region work in the informal sector without any job security, labour protections or welfare benefits.
In the Philippines, South Korea and Viet Nam,  trans women told Amnesty that performing at entertainment venues, working in the hospitality industry, engaging in sex work, and taking part in beauty pageants, were often the only ways they could earn a living.
In Bangladesh, India and Pakistan, many transgender women earn money performing ceremonial functions at weddings and births, engaging in sex work or begging on the streets. When lockdowns were imposed, many of them lost their only form of income.
A trans woman in Bangladesh told Amnesty:
"No mainstream companies hire us. We are seen as 'cursed' and 'taboo'. There is no data from the government about trans people. NGOs and activists talked to about 1,500 trans women [during Covid-19] and they [almost all] told us that they are living a very miserable life, have no money and are starving."
Obstacles to accessing healthcare
Transgender people in Asia and the Pacific Islands reported that they are routinely subjected to disrespect and lack of privacy and confidentiality, and in many cases, outright refusal of care, when they seek medical assistance.
There is also a lack of health professionals trained in trans people's specific health requirements, including the regulation of hormones and other gender-affirming treatment. As a result, many transgender people rely on the internet or clandestine market sellers for advice about medication and its side effects.
Accessing hormones was even harder for trans people during the pandemic, with many trans people claiming that interruptions to their gender-affirming treatment was causing them symptoms of anxiety and depression.
Suffering humiliation and abuse
The report showed that most transgender people in Asia are unable to obtain legal ID documents that reflect their gender identity, which not only made it difficult for them to access relief packages and Covid-19 vaccines, but is a major barrier for them in their everyday lives.
One trans activist in the Philippines told Amnesty:
"They said the virus was the great equaliser but in fact it – as well as the response to it – has greatly exacerbated existing inequalities. The systems that were already inaccessible became almost impossible to access for trans people."
The inability to produce an ID that reflected their gender expression also exposed transgender people to greater harassment, abuse and violence.
Another trans activist from the Philippines said:
"Trans women were arrested for being out during the curfew. Most cisgender people just get fines but trans women are humiliated by the officers. There are even reports where trans women were asked to remove their wigs and/or clothes and provide their IDs. Law enforcement officers often go overboard with trans communities when they enforce these policies."
In addition to dealing with the Covid-19 crisis, trans people lived through what was termed their "deadliest year on record", with 375 trans and gender diverse people reported to have been killed globally between 1 October 2020 and 30 September 2021, including 44 people in Asia.
The following year, 327 deaths of trans and gender diverse people were recorded globally, with 40 in Asia. The actual figures for both years are likely to be much higher due to lack of adequate reporting at national levels. This shocking violence is rooted in their longstanding marginalisation, which is reflected in their lack of human rights.
Amnesty is calling for governments in the region – and around the world – to ensure lessons are learned so transgender people are not left behind in future health emergencies and natural disasters.