Arms to Saudi Arabia: Philip Hammond's remarks on Yemen investigation are 'grossly inadequate'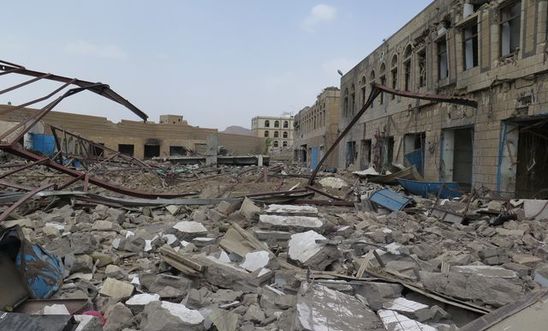 A market place in Sa'da City, one of many sites hit by Saudi coalition air strikes © Amnesty International
'We need an independent investigation into whether UK arms supplied to Saudi Arabia have been used to commit appalling attacks on civilians in Yemen' - Kate Allen
Amnesty writing to Mr Hammond to establish nature of investigations  
Amnesty International has warned that recent comments from the Foreign Secretary Philip Hammond about investigating whether weapons supplied by the UK to Saudi Arabia have been used to commit war crimes and other breaches of international humanitarian law in the conflict in Yemen are "grossly misleading".
Speaking on the BBC Newsnight programme last night, Mr Hammond said that there need to be "proper investigations" into whether weapons supplied to Saudi Arabia have been misused in Yemen, adding that "we need to work with the Saudis to establish that international humanitarian law has been complied with." The Foreign Secretary also remarked: "We regularly intervene with the Saudis to encourage them to be transparent with us."
However, Amnesty has called for the UK to immediately suspend arms exports to Saudi Arabia where there is a risk that the weapons could be used to commit human rights abuses in Yemen. Amnesty is insisting that, rather than apparently relying on Saudi Arabia to conduct its own investigation, the UK should conduct its own rigorous investigation into how weapons supplied to Riyadh have been used in Yemen. 
Amnesty is writing to Mr Hammond urging him to act quickly, with the organisation laying out the necessary investigatory measures the government should undertake.
Since the conflict in Yemen began eight months ago, more than 2,000 civilian - including at least 400 children - have been killed, and the vast majority of civilian deaths and injuries have been caused by the Saudi Arabia-led coalition's often reckless and indiscriminate aerial bombing campaign.
The UK is a major supplier of arms and other military equipment to Saudi Arabia, and Amnesty has repeatedly drawn UK officials' attention to the Saudi-led military coalition's appalling disregard for civilian lives in Yemen. Last month, the Foreign Office minister Tobias Ellwood acknowledged that weapons supplied by the UK to Saudi Arabia had "probably" been used in the conflict in Yemen, a reaction that Amnesty criticised as "far too relaxed". UK ministers have repeatedly said that they relied on Saudi Arabia's own "assurances" over the proper use of UK-supplied weapons by its forces in Yemen.
In an apparent change of policy, Mr Hammond's said during his Newsnight interview that Saudi denials that UK-supplied weapons had been misused in Yemen were "not enough". 
Amnesty International UK Director Kate Allen said:
"Philip Hammond's remarks about 'investigations' over Saudi war crimes in Yemen are grossly inadequate.

 

"We need an independent investigation into whether UK arms supplied to Saudi Arabia have been used to commit appalling attacks on civilians in Yemen. 

 

"Rather than meekly accepting Saudi assurances over Yemen, the government should have been urgently investigating mounting reports of Saudi war crimes all along. 

 

"It shouldn't have taken more than 2,000 Yemeni civilian deaths for the Foreign Secretary to finally realise that simply relying on Saudi denials over war crimes was always a disastrous course of action."
UK arms to Saudi Arabia
The UK recently diverted a consignment of 500-pound "Paveway IV" bombs to Saudi Arabia. The weapons are used by Tornado and Typhoon fighter jets, both of which are manufactured and supplied to Saudi Arabia by the UK arms company BAE Systems. The Tornado and Typhoon jets have been used by Saudi Arabia in its military operations in Yemen. When pressed on the matter, UK ministers have previously said that Saudi Arabia has provided it with "assurances" of their proper use.  
Amnesty is specifically calling on the UK to:
Suspend all transfers to members of the Saudi Arabia-led coalition which are carrying out attacks in Yemen, of general purpose bombs, including but not only those bombs which Amnesty has found evidence of use in a manner which violates or facilitates the violation of international humanitarian law in the conflict: in particular bombs from the MK (Mark) 80 series, specifically MK 82, MK 83, MK 84.
Suspend the transfer to members of the Saudi Arabia-led coalition which are carrying out airstrikes in Yemen of fighter jets, combat helicopters and associated parts and components.
Saudi Arabian war crimes on Yemen
Last month Amnesty published evidence of war crimes by the Saudi Arabia-led coalition in a
40-page report
which examined 13 coalition airstrikes in the city of Sa'da in north-eastern Yemen between May and July this year, attacks which killed some 100 civilians, including 59 children.
More civilians have died as a result of coalition airstrikes than from any other cause during the Yemen conflict and Sa'da has suffered more destruction from airstrikes than any other city in the country. Amnesty's report revealed a pattern of appalling disregard for civilian lives displayed by the Saudi Arabia-led military coalition which has declared the entire cities of Sa'da and nearby Marran - where tens of thousands of civilians live - military targets in violation of international law. In at least four of the airstrikes investigated by Amnesty, homes attacked were struck more than once, suggesting that they had been the intended targets despite no evidence they were being used for military purposes.