UK must investigate Saudi Arabia's use of weapons in Yemen - new report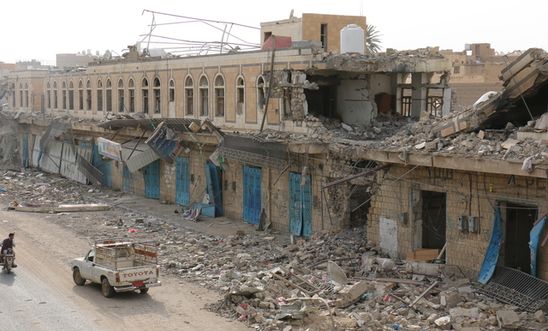 An area of Sa'da City after Arabia-led coalition airstrikes © Amnesty International
New report reveals damning evidence of war crimes during Saudi-led coalition 
Attacks on city of Sa'da have killed 100 civilians, including 59 children - dead baby found in wreckage with dummy still in his mouth
Call on UK government to investigate whether UK weapons involved in killing civilians 
Damning evidence of war crimes by the Saudi Arabia-led coalition - which is armed by countries including the UK and the USA - highlights the urgent need for an independent, effective investigation of violations and for the suspension of transfer of arms used in the attacks, said Amnesty International in a new report published today (7 October).
The 40-page report, 'Bombs fall from the sky day and night': Civilians under fire in northern Yemen, examines 13 deadly airstrikes by the coalition in the city of Sa'da in north-eastern Yemen between May and July this year, attacks which killed some 100 civilians, including 59 children. It also documents the use of internationally-banned cluster bombs.
More civilians have died as a result of coalition airstrikes than from any other cause during the Yemen conflict and Sa'da has suffered more destruction from airstrikes than any other city in the country. Amnesty's report reveals a pattern of appalling disregard for civilian lives displayed by the Saudi Arabia-led military coalition which has declared the entire cities of Sa'da and nearby Marran - where tens of thousands of civilians live - military targets in violation of international law. In at least four of the airstrikes investigated by Amnesty, homes attacked were struck more than once, suggesting that they had been the intended targets despite no evidence they were being used for military purposes.
UK's role as major arms supplier to Saudi Arabia
The UK, a major supplier of arms and other military equipment to Saudi Arabia, has recently diverted a consignment of 500-pound "Paveway IV" bombs to Saudi Arabia. The weapons are used by Tornado and Typhoon fighter jets, both of which are manufactured and supplied to Saudi Arabia by the UK arms company BAE Systems. The Tornado and Typhoon jets have been used by Saudi Arabia in its military operations in Yemen. When pressed on the matter, UK ministers have said that Saudi Arabia has provided it with "assurances" of their proper use.  
Amnesty International UK's Arms Control Programme Director Oliver Sprague said:
"The UK government has previously claimed its arms are being properly used in Yemen, but what on earth is it basing this on? It seems to be no more than claims from the Saudi Arabian authorities themselves.

"With mounting evidence of the reckless nature of the Saudi-led coalition's bombing campaign in Yemen, the government must urgently investigate whether UK-supplied weaponry has killed civilians in places like Sa'da."
Children among the dead
In one airstrike - on 13 June at a home in Dammaj valley in al-Safra - coalition forces killed eight children and two women from the same family, and injured seven other relatives. Abdullah Ahmed Yahya al-Sailami, whose one-year-old son was among those killed, said:
"There were 19 people in the house when it was bombed. All but one were women and children. The children who would usually be outside during the day were in the house because it was lunchtime. They were all killed or injured. One of the dead was a 12-day-old baby." 
Another relative who helped with the rescue efforts said the body of a one-year-old baby was found in the wreckage with his dummy still in his mouth. Amnesty researchers found only household items - children's toys, books and cooking utensils - among the rubble. No sign of weapons or military-ware could be found, nor any other evidence suggesting the house was in any way a legitimate military target. Other attacks in Sa'da struck vehicles carrying civilians fleeing the conflict, foodstuff, humanitarian supplies and animals. The report also details several attacks on shops, markets and other commercial properties.
Amnesty researchers also found remnants of two types of cluster bombs - BLU-97 sub-munitions and their carrier (CBU-97), and the more sophisticated CBU-105 Sensor Fuzed Weapon. Cluster bombs, which are banned under international law, scatter scores of bomblets over a wide area. Many of the bomblets fail to explode upon impact, posing an ongoing deadly threat to anyone who comes into contact with them. A 13-year-old boy, Mohammed Hamood al-Wabash, sustained multiple fractures in his left foot after stepping on an unexploded bomblet from a cluster bomb on 30 May. Amnesty is urging coalition members to cease the use of cluster munitions immediately, and for all countries to stop transferring them.
Meanwhile, civilians in Sa'da living under the terror of constant airstrikes are also contending with a major humanitarian crisis, which has seen electricity cut off for the whole city. 
Donatella Rovera, Amnesty International's Senior Crisis Response Adviser who headed the organisation's research trip to Yemen, said:
"This report uncovers yet more evidence of unlawful airstrikes carried out by the Saudi Arabia-led coalition, some of which amount to war crimes.

"It demonstrates in harrowing detail how crucial it is to stop arms being used to commit serious violations of this kind.

"The USA and other states exporting weapons to any of the parties to the Yemen conflict have a responsibility to ensure that the arms transfers they authorise are not facilitating serious violations of international humanitarian law.

"The designation of large, heavily-populated areas as military targets and the repeated targeting of civilian homes are telling examples revealing the coalition forces' flagrant failure to take sufficient precautions to avoid civilian loss of life as required by international humanitarian law."
Weapons flow must be stopped
Amnesty is calling for a suspension in arms transfers to members of the Saudi Arabia-led coalition participating in the military campaign of weapons and munitions which have been used to commit violations of international humanitarian law, including war crimes in Yemen: in particular - bombs from the MK (MARK) 80 series and other general-purpose bombs, fighter jets, combat helicopters and their associated parts and components.
Calls for accountability
Last week, attempts to set up an independent, international investigation into the Yemen conflict at the UN Human Rights Council in Geneva collapsed and instead a resolution was adopted supporting a national-led investigative committee.
Donatella Rovera said:
"The world's indifference to the suffering of Yemeni civilians in this conflict is shocking. The failure of the UN Human Rights Council last week to establish an international investigation into violations committed by all sides is the latest in a series of failures by the international community to address total impunity for perpetrators of serious violations in Yemen.

"Lack of accountability has contributed to the worsening crisis and unless perpetrators believe they will be brought to justice for their crimes, civilians will continue to suffer the consequences."
An international investigation or inquiry could be established through a resolution adopted by the UN General Assembly or the UN Security Council - or by the UN Secretary-General or the UN High Commissioner for Human Rights acting on their own initiative.