Amnesty UK director to join human rights delegation to US-Mexico border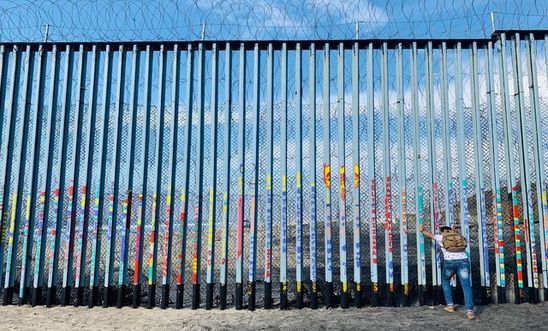 The border 'wall' has been a centrepiece of Donald Trump's immigration policy © Alli Jarrar/ Amnesty International
Delegation will attempt to gain access to highly-secretive 'port courts' in Brownsville, Texas
Press briefing by telephone conference (Fri 25 October, 5pm UK time)
A global delegation of Amnesty International country directors will brief journalists on their trip to monitor the impact of anti-asylum policies at the US-Mexico border next week.
The delegation will be in Brownsville, Texas on Friday 25 October, taking questions by conference call at 11am CT (5pm BST). 
Members of the delegation - which includes Kate Allen, Amnesty International UK's Director - will have met with NGOs in Tijuana and with legal-aid providers in Brownsville. 
They will also report back on their attempts to gain access to highly-secretive "port courts" in Brownsville, new tented structures currently hearing hundreds of asylum cases per day. There has been minimal public information made available about these courts, including how asylum cases are processed and whether they meet international and domestic standards. 
This will be Amnesty's second attempt to seek access to the Brownsville port courts, following similar attempts last month - when Amnesty was barred entry.
On 26 October, the Amnesty delegation will cross the border into Matamoros in Mexico to speak with families and others affected by the notorious "Remain in Mexico" policy, under which the US authorities force people to remain in Mexico while requesting asylum in the US. Amnesty is supporting a legal case challenging the policy. 
Conference call briefing
WHAT: Briefing by international delegation of Amnesty International country directors during trip to US-Mexico border
WHO:
Kate Allen, Director, Amnesty International UK
Irungu Houghton, Executive Director, Amnesty International Kenya
Margaret Huang, Executive Director, Amnesty International USA
Alex Neve, Secretary General, Amnesty International Canada
Tania Reneaum, Executive Director, Amnesty International Mexico
Gabriel Sakellaridis, Executive Director, Amnesty International Greece
WHEN: Friday 25 October 2019, 11am CT (5pm BST)
HOW: RSVP to media@aiusa.org for dial-in information