Amnesty to take Christmas hamper of 'Israeli stolen goods' to Foreign Office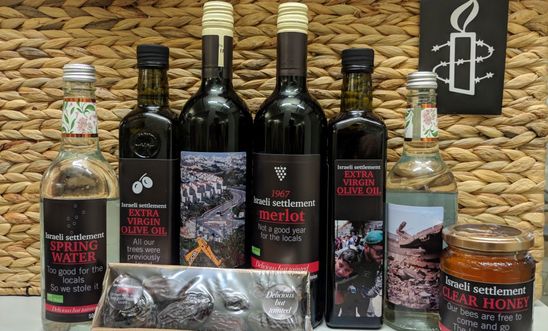 The hamper of goods will be handed in to the Foreign Office along with a 54,000-signature petition © Amnesty International
'All businesses should be following Airbnb's example' - Andy Slaughter
Amnesty International will be taking a Christmas hamper of "Israeli stolen goods" to the Foreign Office on Monday 3 December (3pm).
The hamper will contain numerous food items - including red wine, olive oil, honey, mineral water, eggs, dates, peppers, oranges and avocados - all bearing spoof "Delicious but tainted" branding.
The goods will all bear labels alluding to their tainted and illegal nature, with a bottle of wine declaring itself to be "100% stolen", eggs labelled as from "free-range hens" but "probably rotten", spring water that is "too good for the locals", and Israeli settlement honey described as "a blend of honeys originating from stolen Palestinian land".  
The hamper hand-in will be designed to draw attention to the fact that these goods are all currently being produced in Israel's unlawful settlements in the occupied Palestinian West Bank. 
Each year, hundreds of millions of pounds' worth of goods produced in the settlements are exported internationally, despite the fact that most countries around the world have officially condemned the settlements as illegal under international law. In the UK, imported settlement goods include oranges, dates, spring water and halva desserts.
The spoof Christmas hamper is part of Amnesty's ongoing campaign calling on all governments around the world to ban the importation of Israeli settlement goods. All countries have a clear obligation to ensure respect for international humanitarian law and shouldn't recognise or assist the illegal situation that Israel's settlement policy has created.
Last week, the online travel company Airbnb announced it would withdraw some 200 listings for properties located in Israeli settlements in occupied territories in the West Bank. The company said the move recognised that the settlements "are at the core of the dispute between Israelis and Palestinians". 
Amnesty's tainted goods hamper will be handed to Foreign Office officials along with a 54,000-strong petition from supporters of the campaign. The hand-in will take place with MP Andy Slaughter, a prominent supporter of the ban Israeli settlement goods campaign within Parliament, and Kate Allen, Amnesty UK's Director.
Andy Slaughter said:
"All businesses should be following Airbnb's example and stop profiting from illegal trade with settlements. But it is the UK and other governments that need to enforce a ban. Otherwise they are complicit in breaching international law and giving comfort to the occupation and theft of Palestinian land. 
"Public and parliamentary pressure is growing for a ban and the Government needs to wake up and take action."
Kate Allen said:
"All Israeli settlement goods are tainted goods. They're tainted by the illegality of the settlements themselves and tainted by the discrimination and violence that has led to the creation of the settlements."
More than half a century of occupation
During the course of the 51-year occupation, more than 50,000 Palestinians have had their homes demolished, while some 600,000 Israeli settlers have moved into illegally-constructed settlements, many serviced by settler-only roads and guarded by a network of Israeli military checkpoints. In total, approximately 2,000 square kilometres of Palestinian land has been expropriated by settlers in the past half-century.