30 women to mount 'wrapped in plastic' torture protest outside Mexican Embassy in London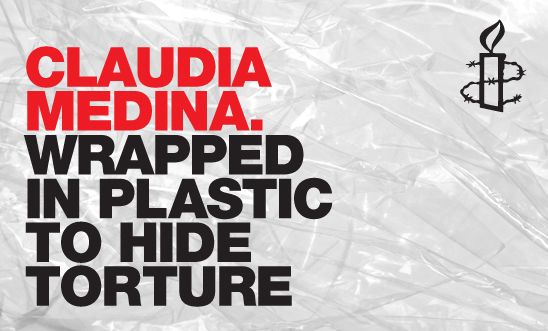 Mexico protest is one of five in London on same day
Campaigners will mount a "wrapped in plastic" protest outside the Mexican Embassy in London on 26 June to highlight the prevalence of torture and other ill-treatment in the country.
The event - which marks the UN International Day in Support of Victims of Torture - will see 30 women, covered head to foot in plastic, assembling outside the central London embassy. The stunt will highlight the case of Claudia Medina, a mother-of-three in Mexico who was tortured in 2012. Her torture included being wrapped in plastic sheeting by military officials to minimise bruising to her body during beatings.
The 30-strong group of protesters will be wearing black clothing, including "Stop Torture" t-shirts, while their faces will also bear "Stop Torture" slogans. Meanwhile fellow protesters will carry a large banner with the message "Claudia Medina. Wrapped in plastic to hide torture."
Mexico has ratified the international treaty that expressly forbids torture (the UN Convention against Torture), a treaty which came into force 30 years ago. The 30 Mexico protesters will symbolise the 30 years since the UN Convention has been in existence.
As part of the event, Amnesty International UK's Director Kate Allen will also be handing in a formal letter to the Mexican Embassy about Ms Medina's case.
Speaking in the lead-up to the protest, Claudia Medina said:
"I decided more than anything to speak out because I don't want to be one of the many Mexican women who have been silent and who have not said anything for fear of retaliation.

"Many people around the world are telling the Mexican authorities to investigate and prosecute the people who did this to me. This is one of my fundamental human rights and I am determined to fight to make it happen."
Amnesty International UK's Stop Torture campaign manager Tom Davies said:
"Mexico would rather be known for good food, good football and good times - but torture is the brutal reality for thousands of people in the country.

"Our 'plastic protest' is a way of saying to the Mexican authorities: we can see what you're doing. You can't hide the marks of torture. We need to see justice for Claudia and countless others."
The demonstration at the Mexico Embassy is one of five anti-torture protests Amnesty is holding in London on 26 June. Others will be held at the London embassies of Morocco, Nigeria, the Philippines and Uzbekistan - four other countries where there is a high risk of torture. The demos are part of Amnesty's new global Stop Torture campaign. The organisation has warned that, despite the Convention against Torture being in place for 30 years, torture is actually "flourishing" around the world, with cruel treatment being recorded in three-quarters of the world's countries in the past five years alone.  
Filming opportunity
The 30 protesters will be wrapped in plastic outside the Mexican Embassy (16 St George Street, London W1S 1FD) from 12.30pm onwards, and there will be an opportunity to take photographs and film this taking place. 
Note to editors
Amnesty is staging four other anti-torture embassy protests in London on the morning of 26 June:
10am: outside the Nigerian High Commission (9 Northumberland Avenue, London WC2N 5BX) protesters will be highlighting the case of Moses Akatugba, a 16-year-old schoolboy who was tortured by the army and the police in Nigeria in 2005. Sixteen school children will brandish pliers and carry a large banner with the message "Moses Akatugba. Fingernails torn out."
11am: outside the Moroccan Embassy (49 Queen's Gate Gardens, London SW7 5NE) protesters will be highlighting the case of Ali Aaraass, a Belgian-Moroccan man tortured in a secret detention centre in Morocco in 2010. Protesters will brandish a set of jump leads and a large banner with the message "Ali Aarrass. Given electric shocks."
11am: outside the Uzbekistan Embassy (41 Holland Park, London W11 3RP) protesters will be highlighting the case of Dilorom Abdukadirova, a small-scale farmer and vegetable seller who was tortured in 2010. Protesters will be carrying placards with Dilorom's face and the slogans "Stop Torture" and "Justice for Dilorom".
11am: outside the Philippines Embassy (6-8 Suffolk Street, London SW1Y 4HG) protesters will be highlighting the case of Alfreda Disbarro, a 32-year-old mother-of-two who was tortured by police in last October. Protesters dressed in Philippine Police-style uniforms and brandishing mops will carry a large banner with the message "Alfreda Disbarro. Forced to 'eat' a mop."