2017: A 'bad year to be brave' as activists are targeted around the world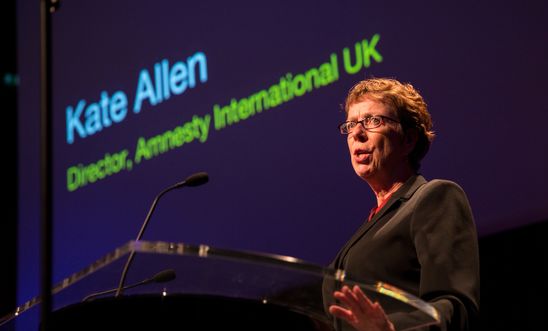 'Brave people standing up against tyranny from Charlottesville to Istanbul have paid with their lives' - Kate Allen
Amnesty International has declared 2017 a dangerous year to speak out about human rights, as the organisation decried a pattern of attacks on activists around the world, branding it a "bad year to be brave".
Since the UN Declaration of Human Rights Defenders in 1998, at least 3,500 activists have been killed – an average of 180 deaths a year – and the annual death toll shows no sign of diminishing.
In 2014, Front Line Defenders recorded 136 killings of human rights defenders.  Last year that number had risen to 281 – and this year is set to be the deadliest year yet.
Amnesty highlighted a number of high profile deaths in 2017:
Heather Heyer, who was killed in August in Charlottesville while protesting against a white supremacist rally
The murders of Syrian opposition activist Orouba Barakat and her journalist daughter Halla, who were stabbed to death in their Istanbul apartment in September
The death of Daphne Caruana Galizia, the Maltese anti-corruption journalist killed in a car bomb in October
The death of Liu Xiaobo, a Nobel laureate and democracy activist, who died in July after a gruelling nine years in prison
As well as drawing attention to the deaths of specific people who stood up for human rights, Amnesty warned of a wider "open season" on activists - which has seen alarming numbers of people imprisoned, threatened, beaten and abused in attempts to silence them. In a particularly brazen case, senior figures at Amnesty Turkey, including Director İdil Eser, were rounded up and arrested on spurious charges as part of a series of sweeping arrests in the country.
Kate Allen, Amnesty International's UK Director, said:
"This year was a dangerous year to be brave. It's truly been open season on activists.

"Brave people standing up against tyranny from Charlottesville to Istanbul have paid with their lives.

"Alarming numbers of activists have been beaten, abused, imprisoned and threatened in attempts to silence and scare them.

"The Universal Declaration of Human Rights was intended to make the world free and safe for all people, but 70 years on that dream is under threat.

"Governments and ordinary people of conscience across the world need to protect human rights and the people who stand up for them, or we will find there's no one left to speak up."
Deadliest year on record?
This year Amnesty launched its BRAVE campaign, which has worked to highlight the dangers faced by human rights defenders around the world.
Its latest report, Deadly but Preventable Attacks: Killings and Enforced Disappearances of Those who Defend Human Rights, reveals the shocking numbers of people who have been attacked, lost their lives or disappeared without trace in their fight to protect the vulnerable and improve society.
Next year marks the 70th anniversary of The Universal Declaration of Human Rights, which was adopted by the United Nations General Assembly. Decades on from the landmark document's publication, fundamental human rights continue to be ignored and abused.
Why are human rights defenders targeted?
Amnesty's report revealed the myriad reasons why activists are attacked. Some are targeted because of their occupation, others for standing up to those in power violating human rights, or for raising awareness of a political or social issue.
Some activists are at risk of attack for both what they do and who they are. These include those defending the rights of women, sex workers, LGBTI people, indigenous peoples and other minority groups.
Women in particular face danger because of a so-called 'double-discrimination' – they are attacked for both their sex and being a human rights defender. In many cases they challenge the accepted gender norms and stereotypes in their society to fight injustices. Often this leads to them being portrayed as 'criminals', 'terrorists' or threats to 'traditional values'.
Finally, others are attacked just for where they live, such as in a war zone or where communities are in the grip of organised crime.
For more information visit www.amnesty.org.uk/brave or contact the press office