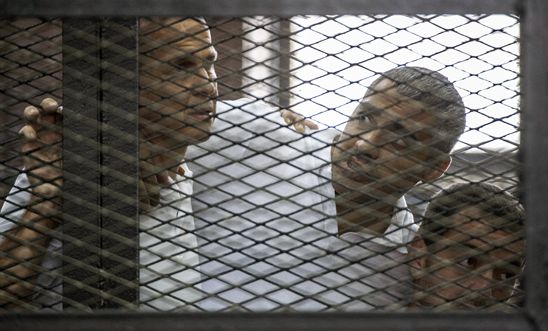 Al-Jazeera journalists (L-R) Peter Greste, Mohamed Fadel Fahmy and Baher Mohamed at their trial in Cairo, 23 June 2013 © KHALED DESOUKI/AFP/Getty Images
'I thought it was a mistake – we'd done nothing wrong… I thought it'd be over pretty quickly'
Peter Greste
It's just over a year since Al Jazeera reporter Peter Greste was marched out of his prison cell in Cairo, bundled on to a plane and deported from Egypt back to Australia.
His living nightmare – imprisoned simply for being a journalist – had ended as abruptly as it had started. But what really happened to Peter and his Al Jazeera colleagues? Peter told us the whole story.
Listen to Peter telling his story
Hear from Peter on his experience of solitary confinement, how he managed to stay strong in the face of injustice, and why he's now speaking out for press freedom, as journalism becomes an increasingly dangerous job.
Jailed for journalism
When Peter Greste was asked to work some extra Christmas cover at a different newsroom from usual, he didn't think much of it – he headed to Cairo to report for Al Jazeera English.
It was 2013. Just after Christmas, overnight and out of the blue, Peter and his colleagues Baher Mohamed and Mohamed Fahmy were arrested - simply for doing their jobs as journalists. The arrest of Mohamed and Peter was broadcast on Egyptian television, apparently in an attempt to show as belonging to a terrorist group.
The farcical trial and imprisonment of the Al Jazeera staff made headlines around the world, and sparked a worldwide campaign for their release.
Solitary confinement
All of a sudden, Peter was faced with conditions that most of us will never experience – being crammed in a crowded cell with so many people that they had to take it in turns to sleep. And the other other extreme: being kept in isolation in solitary confinement.
The charges against the journalists
In January 2014, Peter and his colleagues Mohamed Fahmy and Baher Mohamed were charged with committing terrorism-related acts - basically because they had reported the news.
By working for Al Jazeera, the Egyptian state claimed that the men were associated with the Muslim Brotherhood - a political group that had briefly ruled Egypt, but recently been listed as a terrorist organisation. The Brotherhood, led by Mohamed Morsi, was elected into power following the ousting of President Hosni Mubarak in 2011, but after Morsi was himself overthrown by the Egyptian army in July 2013, the group were outlawed. In late 2013, any affiliation with and broadcast of Muslim Brotherhood messages meant a terrorism conviction - it still does.
After a long and farcical trial where the prosecution did not present any evidence related to the charges and key witnesses contradicted themselves, in June 2014, Peter, Mohamed Fahmy and Baher Mohamed were each sentenced to a minimum of seven years in jail.
The ruling was politically-motivated, intended to silence media outlets critical of the current authorities ruling Egypt and sending a message to the Muslim Brotherhood that any association with the group will be punished.
We called for the journalists' release throughout their detention. Their arrest, trial and imprisonment was an affront to human rights: they had committed no crime, and as such were prisoners of conscience, punished for exercising their right to free speech and association.
Release
After more than 400 days in prison for no reason, the Al Jazeera trial was ruled unlawful in February 2015. Peter was released on the grounds that he was immediately deported from Egypt to his native Australia. Just as abruptly and shambolically as his prison sentence had begun, it was suddenly over.
Free in Cyprus! Feels sweet. Peter back online for first time in 400+ days. Special thanks to Mike 4 nursing twitter pic.twitter.com/APATL1RljI

— Peter Greste (@PeterGreste) February 3, 2015
However, Peter is still a convicted terrorist in the eyes of the Egyptian authorities and their allies - the charges against him have still not been dropped. We're calling on Egyptian authorities to remedy this immediately.
Mohamed Fahmy and Baher Mohamed were freed later that year, in September 2015, following a presidential pardon.
Journalism is an increasingly dangerous job
'You can't have a free society without a free press. In Egypt today you know that you can't provide balance as long as you can end up in prison like us.'
Peter Greste
In 2015, Egypt jailed more media workers than any other country in the world with the exception of China. Photojournalist Shawkan is one of many media workers recently jailed in Cairo. Egypt continues to crack down on media freedom - but it's not the only one.
Journalism is becoming an increasingly dangeous job, with media freedoms on the decrease, and the reporters, photographers, researchers and various other media workers harassed, imprisoned, tortured, or even killed for doing their jobs - often because they involve exposing stories that the government doesn't want you to know about.
We continue to fight for the rights of journalists to do their jobs freely, and we'll always speak out for free speech to be respected and protected around the world.