Philippines: Alfreda Disbarro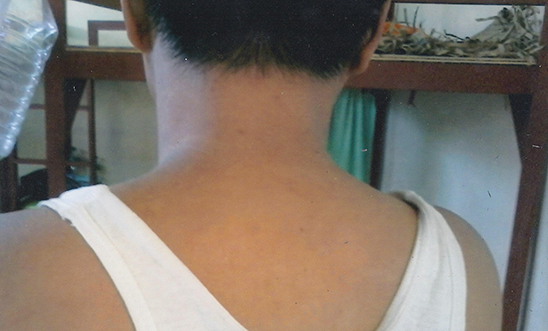 Alfreda Disbarro © Private
On 3 October 2013 police in the Philippines accused 32-year-old mother of two, Alfreda Disbarro, of being a drug dealer.
She said that once police officers had got her inside their headquarters they pinned her to a wall, repeatedly punched her in her face and stomach, hit her with a club, poked their fingers into her eyes, slapped her, forced a mop into her mouth and banged her head against a wall.
Then they beat her with a wooden stick and a metal bar.
'He put a bottle on top of my head and aimed his gun at it. I was so afraid I would get shot. I just closed my eyes in fear'
Alfreda Disbarro
Over the following days Alfreda was in such pain that she couldn't eat, had difficulty breathing and kept vomiting.
During this period she was photographed with 300 Philippine pesos and a sachet of drugs, and told to sign a blank sheet of paper.
After making a complaint to the Philippine Commission on Human Rights, Alfreda underwent a medical examination on 10 October 2013. The doctor found numerous bruises and marks on her body and concluded that they were caused by a hard, blunt object.
Investigation in torture opened
On the 11 June the Acting Chief Inspector of June the Philippine Police Internal Affairs Service (IAS) opened an investigation into the torture of Alfreda by the police officers involved.
We received information that the Acting Chief Inspector of the IAS opened the investigation after receiving a letter from two Amnesty activists. It remains to be seen what comes of the investigation, but it does offer a small ray of hope that the culture of impunity around torture could end.
How widespread is the use of torture in the Philippines?
We have serious concerns about the widespread use of torture and ill-treatment in the Philippines.
State security forces, including police officers, continue to torture suspects and prisoners.
Justice is out of reach for the vast majority of torture victims, most of whom are from disadvantaged backgrounds and live in poor urban areas. Perpetrators are hardly ever held to account.
The Philippines has an extensive legislative framework to stop torture, and the government has pledged to increase its efforts to ensure these laws are implemented. The country is also party to key international anti-torture laws and mechanisms. However, a culture of impunity persists.
Thank you for adding your voice
More than 2,000 of you took action to ask the Philippine authorities to thoroughly investigate Alfreda's claims of torture.
Thank you to everyone who took action and sent solidarity messages to Alfreda – hundreds have been sent to her from all over the world. And because every letter has to be scanned by the officers at the Parañaque City Jail, they have been complaining of doing nothing but scanning her letters.
Alfreda's family send their love and gratitude to all Amnesty members and supporters, and say your support has helped to give them strength and courage.
We're continuing to monitor the situation and if the investigation confirms the torture allegations, we're calling for the Philippine authorities to refer the case for public prosecution and ensure that administrative measures are taken against any police officers who are found to have been involved or complicit in the torture of Alfreda.
We're also urging the Philippine authorities to create a safe space for whistle blowers within the Philippine National Police to report torture allegations.