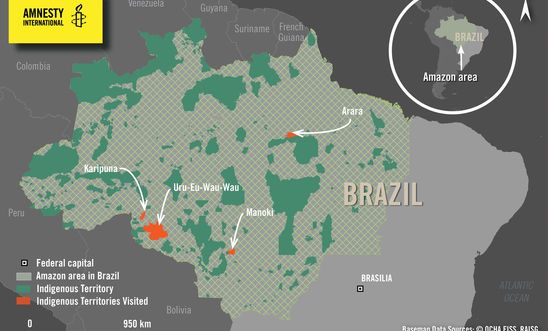 Since April 2019 Amnesty International has visited four different Indigenous territories in Brazil's Amazon. Basemap Data Sources © OCHA FISS, RAISG
The Southampton group of Amnesty International meets every second Monday of each month to listen to a speaker on human rights related issues and to organise events and campaigns in Southampton.
The next meeting is on 11th November at 19:30 in the Avenue St Andrew's church, The Avenue, Southampton.
We are very pleased to welcome David Palmer, a volunteer at Amnesty International UK, who coordinates our campaigns on Brazil.  He will talk about environmental issues in Brazil.
Everyone is welcome to our meetings: whether you are or not a national member of Amnesty International, please come and see how you can become directly involved in promoting human rights world-wide and defend the people who suffer because they dared to raise their voice.
View latest posts