Harp Concert with Tea was a great success!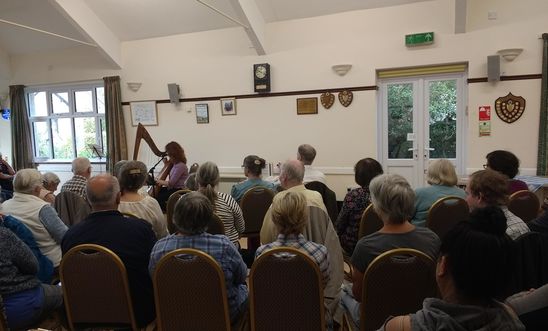 Hazel Prior playing to a packed hall © S Mew
Our harp concert with tea on the afternoon of Sunday 22 September was a great success. Over 50 people packed in to Carhampton Village Hall to hear Hazel Prior play her harp and sing. She also talked about her harp and answered questions. There was a lovely atmosphere and everyone enjoyed the concert, as well as the tea and home-made cakes afterwards. This general view was summed up by one of the audience when he emailed afterwards to say: 'Excellent afternoon. I thought Hazel Prior's presentation and programme was just right for a relaxed Sunday afternoon's entertainment.  And the cakes were delicious.' 
Hazel donated her time free for Amnesty and she has also given to Amnesty the profits from copies of her book Ellie and the Harp Maker published by Bantam Press which she sold at the concert. Thanks to Hazel's generosity, and the support of all those attending, the event raised over £400 for Amnesty.
View latest posts