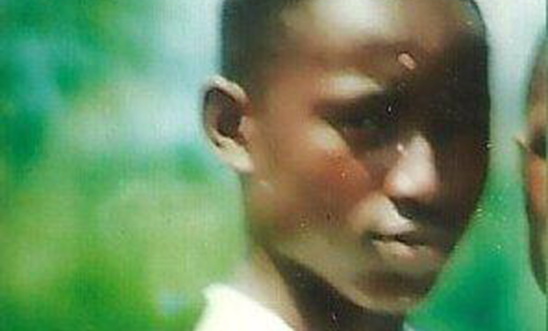 Moses Akatugba © Private
Update, 28 May 2015: Moses pardoned
Emmanuel Uduaghan, the Governor of Delta State, has granted a total pardon to Moses Akatugba, who was sentenced to death by hanging for stealing mobile phones. 
Thank you to the thousands of you who took action for Moses and urged the Governor to show mercy.
The news of his release comes days after thousands of you sent Facebook and Twitter messages to Governor Uduaghan asking him to make sparing Moses part of his legacy before he steps down on 29 May.
36,500 of you also signed our petition to the Governor, showing that together our voices really can make a difference – thank you.
A message to you, from Moses:
'I am overwhelmed. I thank Amnesty International and their activists for the great support that made me a conqueror in this situation. Amnesty International members and activist are my Heroes.

'I want to assure them, that this great effort they have show to me will not be in vain, by the special grace of God I will live up to their expectation.

'Justine Ijeomah is my champion, I will always pray for him in his human rights endeavour. I am grateful also to members and volunteers of human rights social development and environmental Foundation (HURSDEF) for there support.

'I promise to be a human rights activist, to fight for others. I am thanking the Governor for his kind gesture and for keeping to his words.'
Tortured into a 'confession'
16-year-old Moses Akatugba was awaiting the results of his secondary school exams when his life changed forever.
He was arrested by the Nigerian army and, he says, shot in the hand, beaten on the head and back, and then charged with stealing mobile phones.
He was initially held at the local army barracks where, he says, soldiers showed him a corpse. He couldn't identify the dead man, so they beat him.
After being transferred to Epkan police station in Delta State, Moses was tortured again. He said that the police beat him severely with machetes and batons, tied him up and hung him for several hours in interrogation rooms, and used pliers to pull out his finger and toe nails to force him to sign two 'confessions' – which formed the sole basis of his conviction.
'The pain of torture is unbearable. I never thought I would be alive till this day. The pain I went through in the hands of the officers was unimaginable. In my whole life, I have never been subjected to such inhuman treatment,'

Moses speaking in February 2014
Torture by police widespread in Nigeria
Across the country, torture is inflicted on men, women and children by the authorities intended to protect them. We regularly receive reports that Nigerian police routinely torture suspects to extract information, and in many police stations suspects are denied access to a lawyer.
In military detention, detainees are denied access to family members and lawyers, and in most cases the military refuses to give any information about whether someone is in their custody. 
'Confessions' extracted through torture are regularly used as evidence in court, contrary to both national and international law.
Thank you for taking action
More than 35,000 of you signed our petition calling for the Nigerian authorities to commute Moses death sentence and investigate his claims of torture by the police in Delta state. We are continuing to monitor Moses' situation.
The Delta State authorities have received a huge amount of letters, cards and emails from activists around the world so far. Because of this, the Delta State Board of Mercy visited Moses and 118 other death row inmates on 27 June 2014.
The visit is part of the due process that the Governor of Delta State must follow to exercise his constitutional powers to grant a pardon for death row inmates. This is an important step towards Moses Akatugba's death sentence being commuted.
On 1 October 2014, the governor of Delta State released a video response following hundreds of messages on Facebook from Amnesty supporters, asking him to commute Moses' sentence.
Messages of support
Moses was overwhelmed to receive so many messages of support from Amnesty members and activists. He shared this letter of appreciation and the messages below expressing his gratitude:
'I don't know the campaigners before, I have not seen them before, but I cried for help they responded massively to save me, I don't know that people still have such great love to their fellow human beings. I promise to do the same to humanity to show my gratitude to all. I prayed for them that God will replenish and bless them abundantly in everything they lay their hands on earth. I promise to work for the emancipation of torture victims and death row inmates, suffering the same injustice done to me, if I am out from prison.

I love you all.' 
'I am so grateful for everything that people are doing in the UK to help me. The letters I have received give me hope. When I hear about the level of support and everything that is being done for me by Amnesty International, it makes me the happiest man on earth.'

Moses, 30 October 2014