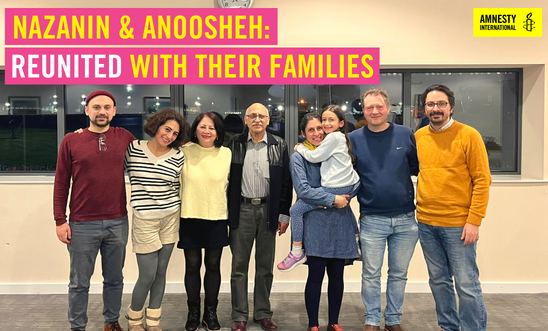 Nazanin & Anoosheh released!!
Nazanin Zaghari-Ratcliffe & Anoosheh Ashoori are both finally released after more than 10 years combined unjustly detained in Iran. This is the news we & their families have hoped for every day since Nazanin was arrested in 2016.
This is incredible news for everyone who has supported Nazanin, and shows that when we can come together Humanity Wins.
CONFIRMED: Nazanin Zaghari-Ratcliffe & Anoosheh Ashoori are both FINALLY released after more than 10yrs combined unjustly detained in Iran ✊

This is the news we & their families have hoped for every day since Nazanin was arrested in 2016 ❤️

We'll share more soon#HumanityWins pic.twitter.com/lGhAJ1iNGW

— Amnesty UK (@AmnestyUK) March 16, 2022
Richard's hunger strike
On Sunday 24 October 2021, Nazanin's husband Richard Ratcliffe began a hunger strike outside the Foreign Office in London, declaring "the time for promises is over". His protest was a bid to press the Government into taking firmer action for Nazanin, his wife who has been arbitrarily detained in Iran for more than five-and-a-half years.
On Saturday 13th November 2021, after an astonishing 21 days without food, Richard agreed with Nazanin to end the hunger strike.
Throughout the protest, many MPs and peers from all political parties visited Richard and pressed the government to act to secure the release of Nazanin, Anoosheh, Morad, Mehran and all British nationals arbitrarily detained in Iran. Richard has had two meetings with the Foreign Office, including with the Foreign Secretary, and next week a debate will take place in Parliament. You can contact your MP and urge them to attend here.
Despite all this, there has still been no promises, no real commitments from government. We remain hopeful that the extensive outcry, from members of the public across the country, MPs & peers across Parliament, may have had some influence behind the scenes which may not be known until later down the line.
Until then, the Prime Minister must step in and take action.
2000 days and counting...
It's now over 2,000 days that Nazanin has been unjustly detained in Iran. We're standing in solidarity with Nazanin, Richard and their young daughter Gabriella,and joining their call on Prime Minister Boris Johnson to end this cruel game and bring his nationals home.  
Over this time, the Iranian authorities have continued to play cruel political games with the lives of British nationals. Since Nazanin was detained in 2016, three others have been arbitrarily arrested and imprisoned in Iran - Anoosheh Ashoori, Morad Tahbaz and Mehran Raoof. While the UK Government has taken some steps in an attempt to secure the release of these British nationals, including Nazanin, these have ultimately failed.
We are calling on the UK Government to review their failed strategy, and to ensure that all necessary and available steps have been taken to secure the release of Nazanin, Anoosheh, Mehran and Morad.
End of Nazanin's sentence
Nazanin's sentence ended in April 2021 and her ankle tag was removed. However, a week later she was put back on trial and convicted of a fresh charge with a one-year prison sentence.
In October 2021, Nazanin lost her appeal against her second prison sentence - a sentence that could begin at any time.
On the day that she should have been flying home at the end of her first sentence, armed with a petition signed by 160,000 of you, we went straight to the Iranian embassy to demand her immediate and unconditional release and reunion with her husband and daughter in the UK.
Next Steps
There is no time to waste. Now that Nazanin's unjust sentence has come to an end, and she is still not reunited with her husband and daughter, we're ramping up the pressure on the UK government to take concrete steps to get her home and calling on them to:
Fully utilise the diplomatic protection that Nazanin was granted in March 2019 
Assert their right under international law to provide Nazanin with consular assistance.
Work and coordinate with other affected states to address Iran's arbitrary detention of dual national
We need to exert lots of pressure on the UK government, and you can help by sharing our social post. We'll show them that we're not giving up on Nazanin.
Nazanin's Story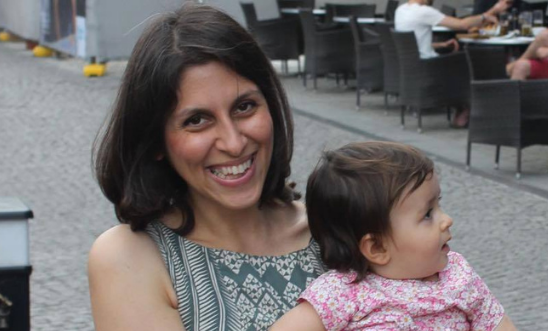 Nazanin is a 42 year old British-Iranian mother, who is being arbitrarily detained in Iran. She worked in charities and news organisations throughout her 20s and met her husband, Richard, in London after studying for a Masters. She and Richard married in 2009 and their daughter Gabriella was born in 2014.
In March 2016, Nazanin took then one year old Gabriella to visit Nazanin's parents in Tehran for the Iranian New Year. As she and Gabriella were about to board a plane back to the UK, Nazanin was stopped and arrested by the notorious Revolutionary Guard without an explanation. Gabriella was separated from her mother and handed over to her grandparents while their documents were confiscated. 
Imprisonment and Unfair Trial
Nazanin was placed in solitary confinement for a total of 8.5 months. She was denied access to her lawyer and was only allowed limited contact with her family.
In September 2016, after a grossly unfair trial, Nazanin was sentenced to five years in prison on a trumped up national security charge and the evidence used against her was kept secret. According to her husband, Nazanin had previously been given a message for her family to pass on to the UK government that she would be released without charge if the British government "made the agreement".
In Spring 2020, Nazanin was released on furlough (temporary prison leave) and is currently staying with her parents in Tehran where her movements are limited and she is watched. In September, she was again taken to court and told she would face another arbitrary charge of "spreading propaganda against the system". A trial date was set for the following weekend but this was postponed at short notice.
On 7th March - the official end of her sentence - Nazanin's ankle tag was removed and her movements restricted. However she faced a second charge and after a short trial on Sunday 14th March, the Iranian authorities announced that has been sentenced to one more year in prison in Iran and a ban on leaving the country.
Health and medical care
Nazanin's physical and mental health has declined dramatically over the years.
She has gone through extreme bouts of distress and depression as a result of her imprisonment, cruel treatment and separation from Gabriella. While she has been out of prison on furlough she has been forced to wear an ankle tag limiting her to within 300 metres of her parents' home. This has limited her access to any medical care.
The end of her sentence & second charge
According to Iranian law, Nazanin's sentence comes to an end on Sunday 7th March 2021, and she should have been flying home back to the UK on Monday 8th March. 
However, after removing her ankle tag, Iran have announced that she has been given a second prison sentence of one year, with an additional year that bans her travel. In October 2021, she lost her appeal against this second sentence.
"It is such a gratuitous waste of human lives. Today it is hard to know just how much longer it will continue."
Richard, Nazanin's husband
We're standing in solidarity with Nazanin and her husband, Richard, to show the Iranian and British authorities that we won't stand for this.
Nazanin continues to be used as bargaining chip at the hands of an authority who have played cruel political games with her life.