Myanmar crisis: Rohingya armed groups massacred Hindus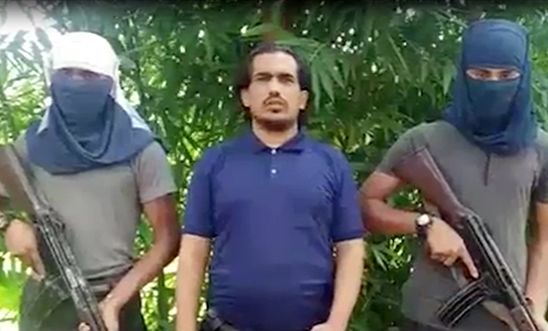 Ataullah abu Ammar Jununi, leader of the Arakan Rohingya Salvation Army (ARSA) © Private
'I saw men holding the heads and hair [of the women] and others were holding knives. And then they cut their throats.'
Formila, 20, survivor of the massacre in the Hindu village of Ah Nauk Kha Maung Seik
A Rohingya armed group brandishing guns and swords killed around 100 Hindu people in Myanmar's Rakhine State, ahead of the violent ethnic cleansing carried out by Myanmar's security forces last year.
The Arakan Rohingya Salvation Army (ARSA) carried at least one massacre, as well as additional unlawful killings and abductions of Hindu villagers in August 2017.
The massacre in Kha Maung Seik
At 8am on 25 August 2017, armed men dressed in black and local Rohingya villagers in plain clothes rounded up dozens of Hindu women, men and children in the village of Ah Nauk Kha Maung Seik.
They robbed, bound, and blindfolded them before marching them to the outskirts of the village, where they separated the men from the women and young children.
A few hours later, ARSA fighters killed 53 of the Hindu villagers, execution-style, starting with the men.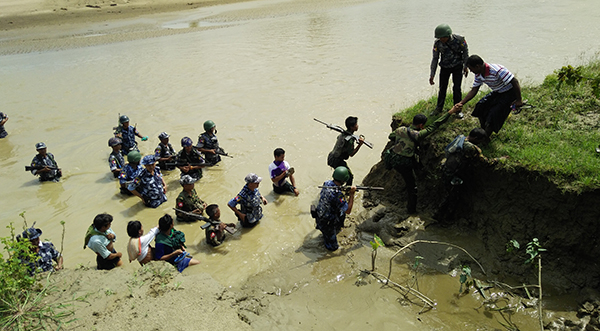 Eight Hindu women and eight of their children were abducted and spared, after ARSA fighters forced the women to agree to convert to Islam and flee with the fighters to Bangladesh.
'They slaughtered the men. We were told not to look at them … They had knives. They also had some spades and iron rods. … We hid ourselves in the shrubs there and were able to see a little … My uncle, my father, my brother – they were all slaughtered.' 
Raj Kumari, 18, survivor of the massacre
Formila, around 20, told us that as she and the other seven abducted women were being marched away, she turned back and saw ARSA fighters kill the other women and children.
The same day, all of the 46 Hindu men, women, and children in the neighbouring village of Ye Bauk Kyar disappeared, presumed killed by the same ARSA fighters.
Combined with those from Ah Nauk Kha Maung Seik, the total death toll is believed to be 99.
The bodies of 45 people from Ah Nauk Kha Maung Seik were unearthed in four mass graves in late September 2017. The remains of the rest of the victims from that village, as well as all 47 from Ye Bauk Kyar, have not yet been found.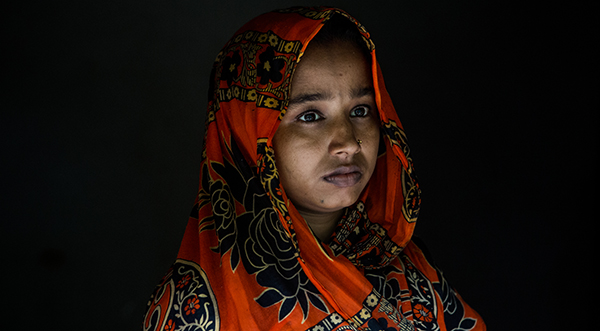 'My husband was shot next to me'
On 26 August 2017, ARSA members killed six Hindus, including three children, and injured another woman on the outskirts of Maungdaw town, near Myo Thu Gyi village.
'The people who shot us were dressed in black. … I couldn't see their faces, only their eyes. … They had long guns and swords,. My husband was shot next to me. I was shot [in the chest]. After that I was barely conscious.' 
Kor Mor La, 25, survived the attack. Her husband and five-year-old daughter were both killed.
These killings came just days after ARSA fighters unleashed a series of attacks on around 30 Myanmar security posts on 25 August 2017, prompting an unlawful and grossly disproportionate and indiscriminate campaign of violence by Myanmar's security forces.
The Myanmar army's campaign was marked by killings, rape, torture, village burning, forced starvation tactics, and other crimes against humanity. More than 693,000 Rohingya people were forced to flee to Bangladesh, where they still remain.
How we exposed the truth
Amnesty researchers conducted dozens of interviews in Myanmar and across the border in Bangladesh, as well as using photographic evidence analysed by forensic pathologists, to expose how ARSA fighters sowed fear among Hindus and other ethnic communities with these brutal attacks.
Our on-the-ground investigation shed much-needed light on the largely under-reported human rights abuses by ARSA during Myanmar's violent year. We found that the sheer brutality of ARSA's actions left a lasting impression on the survivors we spoken to.
ARSA must be held to account for these atrocities, just as Myanmar's security forces should be for its crimes against humanity.
What is the Rohingya crisis?
The violent campaign of ethnic cleansing carried out by Myanmar's army against the Rohingya people made headlines around the world last year as thousands of the Muslim Rohingya minority were slaughtered.
The Rohingya are an ethnic Muslim group who are denied the right to a nationality, and face severe restrictions on their rights to freedom of movement, access to education, healthcare, and livelihoods, to practice their religion and participate in public life in Myanmar.
The situation came to a head in August 2017 after Rohingya militants launched a series of coordinated attacks on security forces in the north of Myanmar's Rakhine state.
Since then, clashes between Myanmar's military and the Rohingya armed group have continued and security forces have engaged in a disproportionate campaign of violence against the Rohingya. But the persecution didn't start in 2017.
Our two-year investigation shows that the Rohingya people of Rakhine State were trapped in a dehumanising apartheid regime that denied their human rights and severely restricted virtually every aspect of their lives for years before the most recent atrocities.