Mexico: Torture is 'out of control'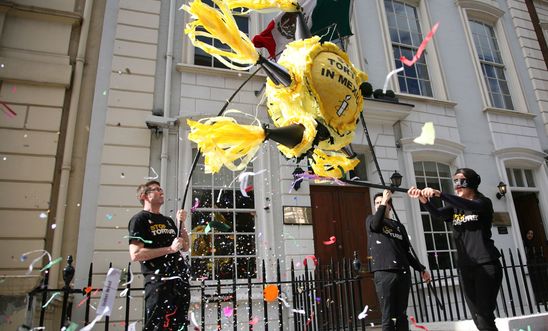 On 2 February 2011, Miriam López had just finished the school run when she was abducted by two men in balaclavas. She was taken to a military base near Tijuana, Mexico, and held for seven days.
Miriam told us she was beaten, raped three times, given electric shocks and nearly asphyxiated by her captors in order to get her to implicate herself and others in drug trafficking offences.
She was eventually released without charges and was brave enough to file a formal complaint. Three years have passed – and none of her torturers have been brought to justice.
But Miriam's ordeal is not unique. Reports of torture have increased by 600% over the last decade. People are living in fear of being abused by the authorities intended to protect them.
Yet the government continues to deny it is happening.
Thank you for taking action
Almost 20,000 of you emailed Mexico's Attorney General ahead of a high-level meeting to talk about strenghtening the way they investigate torture. We hope it will be a real step in the right direction for Mexico to improve its grisly track record on torture.
And you didn't stop there. Earlier in the year, more than 14,000 of you took action to call on the Mexican president, Enrique Peña Nieto, to uphold all anti-torture safeguards, including proper medical examinations, and investigate all allegations of torture in his country.
Ahead of President Peña Nieto's state visit to the UK in March 2015, we staged a stunt outside the Mexican embassy in London to draw attention to the country's record on torture, delivering thousands of your petition signatures inside a giant Stop Torture piñata.
We've also urged UK ministers who are set to meet the Mexican leader to ensure that human rights are addressed during the visit.
Why is torture out of control in Mexico?
Violence has spiralled in recent years as army and marine troops have been deployed to combat drug cartels and other organised crime groups.
Torture is the preferred method of investigation for many Mexican police and military officers. Beatings, death threats, electric shocks, near-asphyxiation, and sexual violence are used to force people into signing false confessions to use as evidence to prosecute.
In 2012 the UN recommended a set of measures for Mexico to implement in order to combat torture. So far, the government has failed to act on them and torture continues to be tolerated.
Failed by the system
The Mexican justice system turns a blind eye to torture by the police and military. Safeguards exist – but are seldom upheld. Complaints are rarely investigated adequately.
Medical examinations often fall far short of international standards, making it harder for victims to prove torture and get justice. They often happen years after torture was alleged to have taken place, so people are unlikely to bear the signs of abuse.
The result? Almost total impunity for torturers.
The majority of people tortured by the police are those least likely to be able to file complaints and seek redress, people like Claudia Medina Tamariz, who was abducted and tortured by marines.
In Claudia's case, it wasn't until a year after her ordeal that a federal forensic doctor told her she could conduct the examination, but only if Claudia travelled to Guadalajara, several hundred kilometres from Claudia's home, at her own expense.
A judge ordered the Federal Attorney General's Office to investigate Claudia's allegations of torture – but so far it has failed to do so. To date, no one has been held to account for Claudia's torture.
What we're calling for
We're continuing to monitor the situation and keep up the pressure to ensure that:
all victims of torture receive prompt medical examinations in line with international standards, such as the UN-backed Istanbul Protocol
independent medical experts can examine detainees at the earliest opportunity, and that their medical legal evaluations are considered as evidence by prosecutors and judges
all allegations of torture are thoroughly investigated and the perpetrators brought to justice.