Make a Will Month: Info for solicitors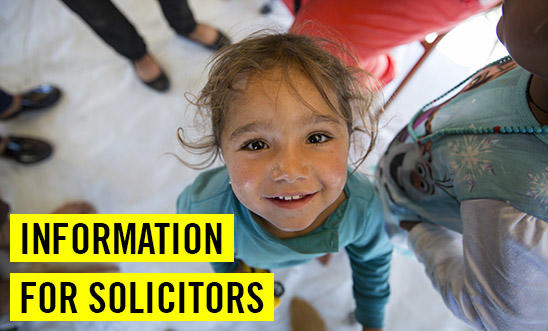 Thank you so much for signing up as a partner solicitor for Make a Will Month 2018. Your support is helping us save lives and tackle human rights abuses around the world.
Everything you need to take part is here on this page.
Check your details
Please check we have the correct details for your firm by entering your postcode here.
Please email legacy@amnesty.org.uk if you have any changes.
Get supporting materials
You should have received an information pack in the post from us with copies of the support materials you will need to take part. You can also download and print below:
Promote the scheme
We'd love you to promote your participation in Make a Will Month on your own website.
You can download the Amnesty logo above.
And here's an idea for some wording:
"Proud to participate in Amnesty UK's free will-writing scheme 'Make a Will Month'. Helping to tackle human rights abuses around the world. Contact us today to find out more."
Take part next year
The deadline to take part in 2018 has passed, but we're already signing up solicitors for 2019. Sign up today and we'll be in touch later in the year to confirm your registration and with more information about next year's scheme.
Please note that we require that all solicitors participating in Make a Will Month agree to the scheme terms and conditions.
Get more information
If you have any questions about the scheme, please contact Christina Sandberg in our Legacy team who will be happy to help.
Email: legacy@amnesty.org.uk
Phone: 020 7033 1657