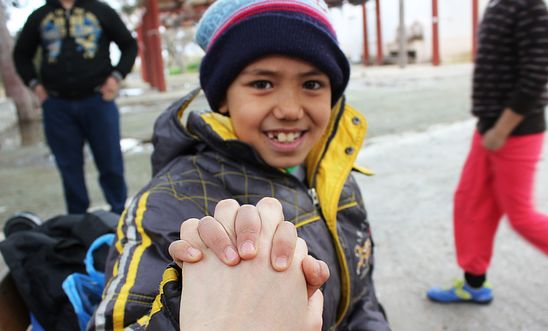 A young refugee boy on the Greek island of Kos © Amnesty International
If you would like to find out more about leaving a gift to Amnesty in your Will you can request a guide or get in touch directly with our Legacy team and Emma or Christina will be happy to answer your questions.
 
You can give us a call on 020 7033 1627 or 020 7033 1657. Or send us an email at legacy@amnesty.org.uk.
 
Alternatively you can have a look at our FAQ section below.
Frequently asked questions 
Do I really need a Will?
Having a Will isn't a legal requirement, but it's the only way to ensure that your estate is passed on to the people and charities that you want it to go to. Without a Will, it's the legal system that will decide who receives what from your estate.
What is Inheritance Tax and how does it affect me?
Inheritance Tax (IHT) is a tax that is charged on the portion of your estate that exceeds a certain level at the time of your death. A gift to charity in your Will could reduce your liability. Since 6 April 2012 however, your IHT rate will be cut from 40% to 36% if you leave at least 10% of your estate to one or more registered charities.
Everybody's financial affairs are different, so we always recommend talking to your solicitor or financial advisor.
What if I want to change something?
It's important to regularly review your Will, to take into account any changes in your life and to Inheritance Tax rules. If you've already made a Will, it's easy to add a gift to a charity by using what's called a 'Codicil' – to find out more, just ask your solicitor or have a look at the codicil form in our legacy guide. 
You can update your Will for free through the National Free Wills Network scheme or Co-op Legal. More information can be found here.
What wording should I use to include a gift to Amnesty in my Will?
We strongly recommend you have your Will drafted by a solicitor to ensure your wishes are properly carried out. Please see our downloadable guide above to making a Will for suggested wording.
Can Amnesty act as executor of my Will?
Unfortunately, we can't act as the executor of your Will. This is because we do not have the resources to manage it and because we don't have Trust Corporation status which you need to have to be an executor of a Will.