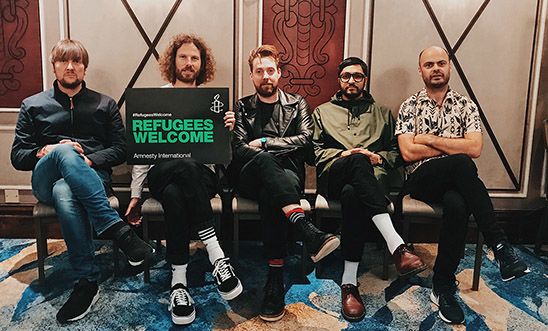 "We need to stand up for people under threat whoever and wherever they are."
— Kaiser Chiefs
Formed in Leeds in 2000, Kaiser Chiefs are one of the leading bands of their generation. The band have had a string of anthemic hits such as 'Coming Home, 'Oh My God', 'I Predict A Riot', 'Everyday I Love You Less And Less', 'Ruby', 'Never Miss A Beat' and their latest single 'Hole In My Soul'. Their reputation of being Britain's best live band has led to many headline festival slots and sell-out tours. 
The band have released six original studio albums, achieved platinum record sales, top ten singles including the number one hit 'Ruby', three Brit Awards, toured with U2, Foo Fighters and Green Day and sold eight million albums.
At the end of 2016 the group released their sixth album STAY TOGETHER produced by Xenomania's Brian Higgins which became their 5th top five album. The band have just have completed a hugely successful UK arena tour.
We have worked with Kaiser Chiefs on many projects, including a short film about human rights, which was shown by them on tour.
About Amnesty Ambassadors
Amnesty Ambassadors are made up of profile individuals from a broad range of disciplines. Using their profile and networks our Ambassador's allow us to educate, amplify and inspire more and more people to join the fight for human rights.