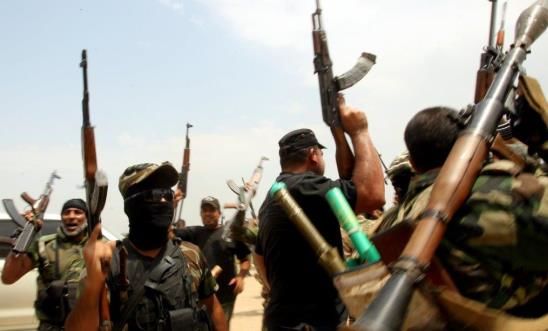 Shiite Muslim fighters from the Saraya al-Salam (Peace Brigades) © ALI AL-SAADI/AFP/Getty Images
Against the current backdrop of lawlessness and sectarian violence, Shi'a militias have been abducting and killing Sunni civilians with almost total impunity.
Unidentified bodies have been discovered, handcuffed with gunshot wounds to the head, indicating a pattern of execution-style killings.
The Iraqi government often supports and arms these militias – making them largely responsible for war crimes and serious human rights abuses.
A new wave of Sunni killings
These Shi'a militias have seen a rapid rise in power since June, after the Iraqi army lost control of much of northern Iraq to the Sunni Islamist armed group 'Islamic State' (IS). The militias wear military uniforms but operate outside any legal framework. 
In Samarra, we found that more than 170 young Sunni men have been abducted since early June. Dozens were later found dead and the rest remain unaccounted for.
On one day alone, more than 30 Sunni men were abducted from their homes in Samarra, shot dead and their bodies dumped nearby.
The killing spree seems to be in revenge for IS fighters briefly entering the city the previous day. Other attacks by Shi'a militias involve extorting money from the families of those they abduct.
'Shi'a militias are ruthlessly targeting Sunni civilians on a sectarian basis under the guise of fighting terrorism.'
Donatella Rovera, Amnesty's Senior Crisis Response Adviser
'Find the money and don't go to the police or we'll kill them'
Two cousins, Majed, a 31-year-old Ministry of Education employee and father of three young children, and Nayef, a 30-year-old engineer, were abducted by men in military uniform.
Majed's mother received a phone call from her son's mobile phone, asking for 20 dafatir (US $180,000) for their release.
'I told him I only have this boy and we have no money but he said 'find the money and don't go to the police or we'll kill them'. They called several times over the next two days and eventually they lowered their demand to 10 dafatir. I had to borrow the money and so did Nayef's family.'
Three days after the abduction, they told Majed's mother to take the money to the Mashat bridge. After waiting for an hour, then being told to go to several different locations, the kidnappers finally arrived to collect the money.
'They took the money and drove off towards al-Shu'la. I waited for an hour but nobody came. The following day a relative called to say that their bodies had been found in al-Shu'la and taken to the morgue. Both had been shot in the head. He was my only son, now I have nothing to live for.'
What we want to see
The new government of Iraq must take swift and decisive measures to reverse the rise of militia rule. All allegations of abductions, killings, torture and extortion must be investigated thoroughly and independently.
'By granting its blessing to militias who routinely commit such abhorrent abuses, the Iraqi government is sanctioning war crimes and fuelling a dangerous cycle of sectarian violence that is tearing the country apart... The new Iraqi government of Prime Minister Haider al-Abadi must act now to rein in the militias and establish the rule of law.'
Donatella Rovera