Iraq: thousands of homes destroyed in revenge campaign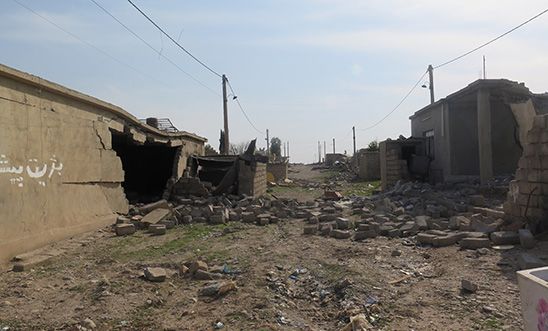 © Amnesty International
In an apparent attempt to take revenge on supporters of Islamic State (IS), Peshmerga forces from the Kurdistan Regional Government (KRG) and Kurdish militias in northern Iraq have bulldozed, blown up and burned down thousands of civilian homes.
Tens of thousands of people are now surviving in makeshift camps in desperate conditions.
Maher Nubul, a father of 11 who left his village in August 2014, said the whole village was flattened after it was recaptured by the Peshmerga:
'All I know is that when the Peshmerga retook the village, the houses were standing. We could not go back but could see it clearly from the distance. And later they bulldozed the village, I don't know why. There is nothing left. They destroyed everything for no reason.'
No excuses
The KRG has faced unprecedented humanitarian and security challenges after IS captured large parts of northern Iraq in 2014. However, these difficult circumstances cannot excuse deliberate destruction and other serious abuses committed by their forces and other militias.
In some cases, Peshmerga forces tried to blame the destruction on IS fighters, despite a lack of any evidence to support these claims and their own colleagues' admitting that they had destroyed the village to ensure that Arab residents would have nothing to return to.
'KRG forces have a duty to bring to justice in fair trials individuals who are suspected of having aided and abetted IS crimes. But they must not punish entire communities for crimes perpetrated by some of their members or based on vague, discriminatory and unsubstantiated suspicions that they support IS.'
Donatella Rovera, Amnesty's Senior Crisis Response Advisor
Amnesty denied access
Our researchers visited 13 villages and towns, interviewed more than 100 eyewitnesses of the large-scale destruction, and analysed satellite imagery. 
However, Peshmerga forces tried to stop our research into these potential abuses. On at least two occasions shortly after arriving in destroyed villages, our researchers were apprehended by Peshmerga, who escorted them out of the area and prevented them from taking photographs.
Follow our senior crisis researcher Donatella Rovera on Twitter