How Islamic State got its weapons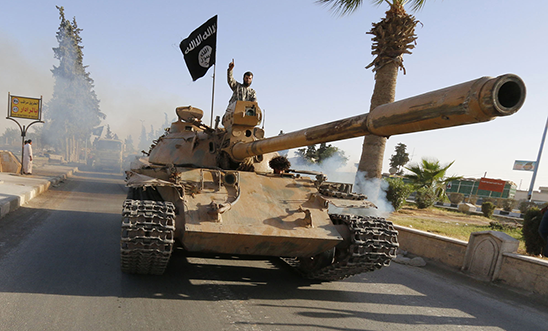 Islamic State (ISIS) hold a military parade in northern Raqqa to celebrate capturing territory in neighbouring Iraq. © REUTERS/Stringer
Irresponsible arms transfers by countries including the UK, USA, Russia, China, Germany and France have provided the armed group with a huge and lethal arsenal.
For years, weapons of war have been freely flowing into Iraq. Slack controls over Iraqi military stockpiles and endemic corruption by successive Iraqi governments have added to the problem.
When Islamic State (IS) took control of these areas, these weapons were theirs for the taking. These weapons, manufactured at least 25 countries, are now in the hands of ISIS and being used to commit horrific abuses, killings, rape, torture and abduction – and forced thousands to flee their homes.
'Decades of free-flowing arms into Iraq meant that when IS took control of these areas, they were like children in a sweetshop.

'The fact that countries including the UK have ended up inadvertently arming IS, should give us pause over current weapons deals.'

Oliver Sprague, Arms Programme Director at Amnesty 
Most of the arms date from the 1970s up to the 1990s, including pistols, handguns and other small arms, machine guns, anti-tank weapons, mortars and artillery. 
How did this happen?
We've found ISIS use of arms and ammunition from at least 25 different countries – a large proportion were originally sourced by the Iraqi military from the USA, Russia and former Soviet bloc states.
The huge scope reflects decades of irresponsible arms transfers to Iraq, coupled with the failure to install oversight mechanisms during the US-led occupation after 2003.
Slack controls over military stockpiles and endemic corruption by successive Iraqi governments have added to the problem.
Among ISIS's arsenal are portable air defence systems, guided anti-tank missiles and armoured fighting vehicles, as well as assault rifles like the Russian AK series and the US M16 and Bushmaster.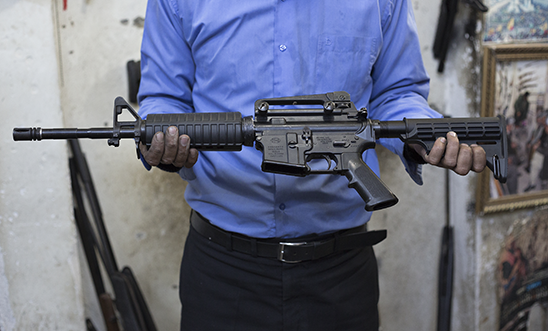 Image: A Kurdish gunsmith holds an American made M16A4, previously owned by the Iraqi Army and then by the Islamic State. © Matt Cetti-Roberts
The Iraqi stockpile
The Iraqi army's weapon supplies grew in the late 1970s and early 1980s, especially around the Iran-Iraq war.
This was a seminal moment in the development of the modern global arms market.
At least 34 different countries supplied Iraq with weapons – 28 of those states were also supplying arms to Iran.
Meanwhile Iraq's then-President Saddam Hussein oversaw the development of a strong national arms industry producing small arms, mortar and artillery shells.
The US-led invasion of Iraq in 2003 meant the country was flooded with more weapon imports once again – but most were never secured or audited by the coalition forces or the re-formed Iraqi army. Hundreds of thousands of those weapons went missing and are still unaccounted for.
More recent efforts to rebuild and equip the Iraqi army have once again resulted in a massive arms flow into Iraq.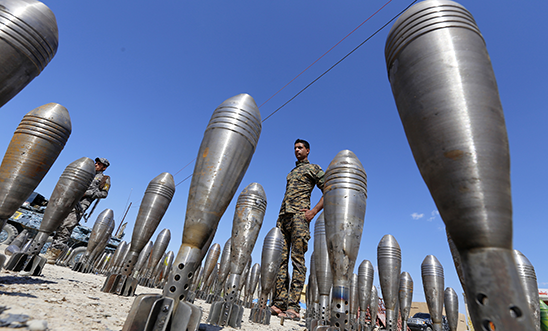 Image: A member of the Iraqi security forces stands between Islamic State ammunition being displayed in al-Alam Salahuddin province. © REUTERS/Thaier Al-Sudani
What needs to be done?
We must learn from these failures and take urgent action to curb future arms proliferation in Iraq, Syria and other unstable regions.
We're calling on all countries to stop arming Syrian government forces and armed opposition groups implicated in war crimes.
States must prevent the sale of weapons to Iraq until it can be demonstrated that adequate measures are in place to prevent those arms ending up in the hands of IS, or being used to commit serious violations of international law.