Atena Farghadani released early after being imprisoned for her art in Iran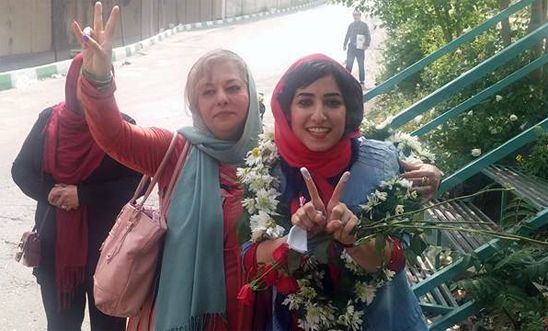 Atena Farghdani walks free on 3 May 2016 © Mohammad Moghimi on Facebook
She was imprisoned for drawing political cartoons. But this week, after a year and a half of injust imprisonment in Iran, 29-year-old painter and activist Atena Farghadani walked free after her sentence was dramatically reduced, and she was aquitted of some of the absurd charges levelled against her.
Atena had been serving a prison sentence of 12 years and nine months for her art, after being found guilty at an unfair trial in June last year of charges including 'spreading propaganda against the system' and 'insulting members of parliament through paintings'. But last week an appeal court in Tehran revised her sentence to 18 months, most of which Atena had already served.
It's great news that Atena's free, but she should never have been imprisoned in the first place - she hadn't committed any crime. She was a prisoner of conscience, punished for peacefully expressing her opinion.
Sentence reduced, but threat of reimprisonment hangs over her
All the charges against Atena stemmed from her peaceful activities, including meeting with families of political prisoners and criticising the authorities on social media and through her art work - art which included a cartoon that satirised members of Iran's parliament for considering bills that restrict access to voluntary contraception and family planning services.
Last week, the appeal court upheld the 18-month prison term imposed for the charge of 'spreading propaganda against the system', but acquitted the charge of 'gathering and colluding against national security'. It also commuted a nine-month imprisonment sentence for 'insulting members of parliament through paintings', 'insulting the President' and 'insulting prison officials' to a cash fine.
However, the court also suspended a three-year prison sentence imposed on Atena for 'insulting the Iranian Supreme Leader' for four years - meaning that during the next four years, Atena could be sent back to prison for this charge. The Iranian authorities often resort to such suspended sentences to create a climate of fear, coercing activists, journalists and others into silence or self-censorship.
Campaign to free Atena
We've been calling on Iran to free Atena since she was detained.
More than 33,000 of you signed our petition to the Iranian authorities calling for Atena's release. Thank you. While Atena should never have had to endure any of this, we are overjoyed that she is free.
Subjected to 'virginity tests' in prison
Atena smuggled a note out of prison last August in which she wrote that the authorities had forced her to undergo a 'virginity test' and pregnancy test in prison, for shaking her (male) lawyer's hand in June 2015 - an innocent act that found her charged with 'illicit sexual relations falling short of adultery'. Authorities later confirmed that they had indeed subjected her to these tests.
Forced 'virginity tests' are intrusive procedures that count as torture - they are humiliating, cruel and discriminate against women.
Atena says that when she was held in Tehran's Evin prison, female guards had beaten her, verbally abused her and forced her to strip naked for a body search.
Imprisoned for her art
In August 2014, 12 members of the Revolutionary Guards came to Atena's house. They confiscated her personal belongings, blindfolded her and took her to Tehran's notorious Evin Prison.  She was to be punished for her peaceful acts of political defiance, including meeting the families of political prisoners and for posting on Facebook a cartoon she'd drawn that was critical of members of the Iranian parliament.
Iran is currently creating a law that will roll back women's rights in the country by restricting access to contraception and criminalising voluntary sterilisation. Atena's cartoon, which depicted politicians in favour of this Bill, is now being held against her – one of the charges she has been convicted of is 'insulting members of parliament through paintings'.
On 1 June 2015, Atena was sentenced by the Revolutionary Court to 12 years and nine months in prison for charges including:
Gathering and colluding against national security
Spreading propaganda against the system
Insulting members of parliament through paintings
Insulting her interrogators
Hunger strike in protest at prison conditions
Atena was kept in solitary confinement for over two weeks when she was detained in Tehran's Evin prison in 2014. During that time she was denied access to her lawyer or family. After her release from detention, she said that she'd been beaten by prison guards.
In January 2015, Atena went on hunger strike to protest that she was being held in extremely poor prison conditions, in a jail that does not have a section for political prisoners. Atena's health suffered considerably as a result; her lawyer told us that the then 28-year-old had suffered a heart attack and briefly lost consciousness in late February as a result of her hunger strike.
Painting as protest
While in prison, Atena flattened paper cups to use them as a surface to paint on. When the prison guards realised what she had been doing, they confiscated her paintings and stopped giving her paper cups. When Atena found some cups in the bathroom, she smuggled them into her cell. Soon after, she was beaten by prison guards, when she refused to strip naked for a full body search.
Atena says that they knew about her taking the cups because they had installed cameras in the toilet and bathroom facilities – cameras detainees had been told were not operating.