Campaign success: Protection given to Indian sisters due to be raped as punishment for their brother's 'crime'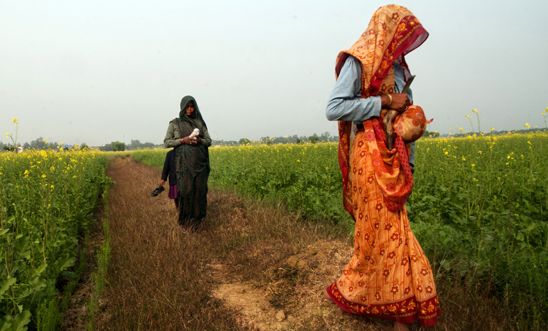 Dalit women walk through mustard fields in Uttar Pradesh © Demotix
In July 2015, an unelected all-male village council in Baghpat, northern India, decreed that two sisters would be raped and paraded naked with their faces blackened, as punishment for their brother's relationship with a married woman.
Over half a million people around the world, including more than 300,000 in the UK, outraged by the horrendous treatment of these women, signed our petition calling on the state authorities to urgently give them protection and to outlaw the ruling of sexual abuse.
India's Supreme Court has now ruled that the women and their family must be protected from abuses.
Ordered to be raped, blackened and paraded naked
In May 2015, 23-year-old Meenakshi Kumari and her 15-year-old sister fled their village in Baghpat, Utter Pradesh, to Delhi, fearing a backlash after their brother, Ravi, eloped with a married woman from a higher caste.
Sadly, their fears were confirmed as well-founded when just days later their house in the village was ransacked. Two months on, the male-only unelected village council (khap panchayat) ruled that Meenakshi and her teenage sister should be raped and paraded naked with their faces blackened as punishment for their brother's actions.
Asked for safety
Fearing for their lives, Meenakshi filed a petition with the Supreme Court, the highest judicial forum in India, asking the Delhi police for protection for the family so that they could return to their homes. Meanwhile, her father contacted India's human rights commission and another national body, complaining that his family were being harassed not only by villagers, but by local police.
One of Meenakshi's brothers told us his family were being subjected to even more aggression after his sister's plea to the Supreme Court.
Supreme Court orders protection
On 15 September, nearly four months after they fled from their home, India's Supreme Court ordered Delhi police to provide protection for the two sisters and their family.
The family don't yet feel safe enough to return to their village, but the Court's decision is a welcome one – when and if the family do return, they should be able to do so safely.
The family have told us they are grateful to everyone who signed the petition to the Home Secretary of Utter Pradesh calling on authorities to protect them.
We will continue to work with Meenakshi and her family to make sure they receive full protection and support to live wherever they choose in peace. We will continue to call for investigation into abuses that the family say they have been subjected to in recent months, and ask local and national officials for reparation for the original ruling of sexual violence against the women.
How did this ruling happen?
Unelected village councils are widespread in parts of India. More often than not they are made up of older men from dominant castes, who prescribe rules for social behaviour and interaction in villages.
The sisters and their family are Dalit, so-called 'untouchables' outside India's caste system; their brother Ravi had had a relationship with a married woman from a supposedly 'higher' caste (Jat). Sumit Kumar, another brother, says that members of the Jat caste are powerful within the village, and that 'the Jat decision is final. They don't listen to us. The police don't listen to us. The police said anyone can be murdered now.'
India's Supreme Court has described these village councils as 'kangaroo courts' and branded their decrees illegal, yet in some states they continue to operate – and their punishments are carried out.