Guantánamo Bay: over 20 years of injustice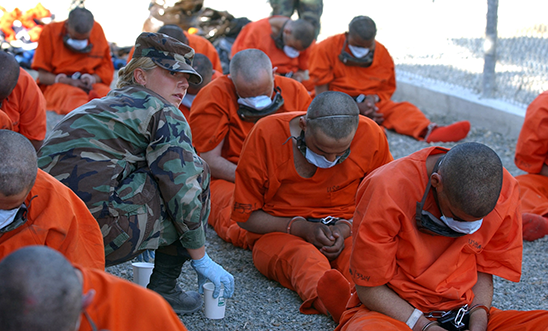 Detainees on arrival to Camp X-Ray, the holding facility at Guantánamo Bay, Cuba. © US DoD
Inside Guantánamo Bay: abuse and torture remain an indelible stain on the United States' history
Guantánamo Bay detention centre – a symbol of torture, rendition and indefinite detention without charge or trial – is over 20 years old.
21 years after the opening of an offshore detention facility specifically designed to evade the rule of law, the US government continues to detain 35 men inside the Guantánamo Bay detention camp.
Of these 35 men, most have never even been charged with a crime. None has had a fair trial. Many of the detainees were tortured.
'Very few of these men have ever been charged with a crime, and absolutely none has faced a fair trial' - Agnès Callamard
President Biden must urgently close the detention facility at the Guantánamo Bay military base, and to end the unlawful practice of indefinite detention without charge or trial.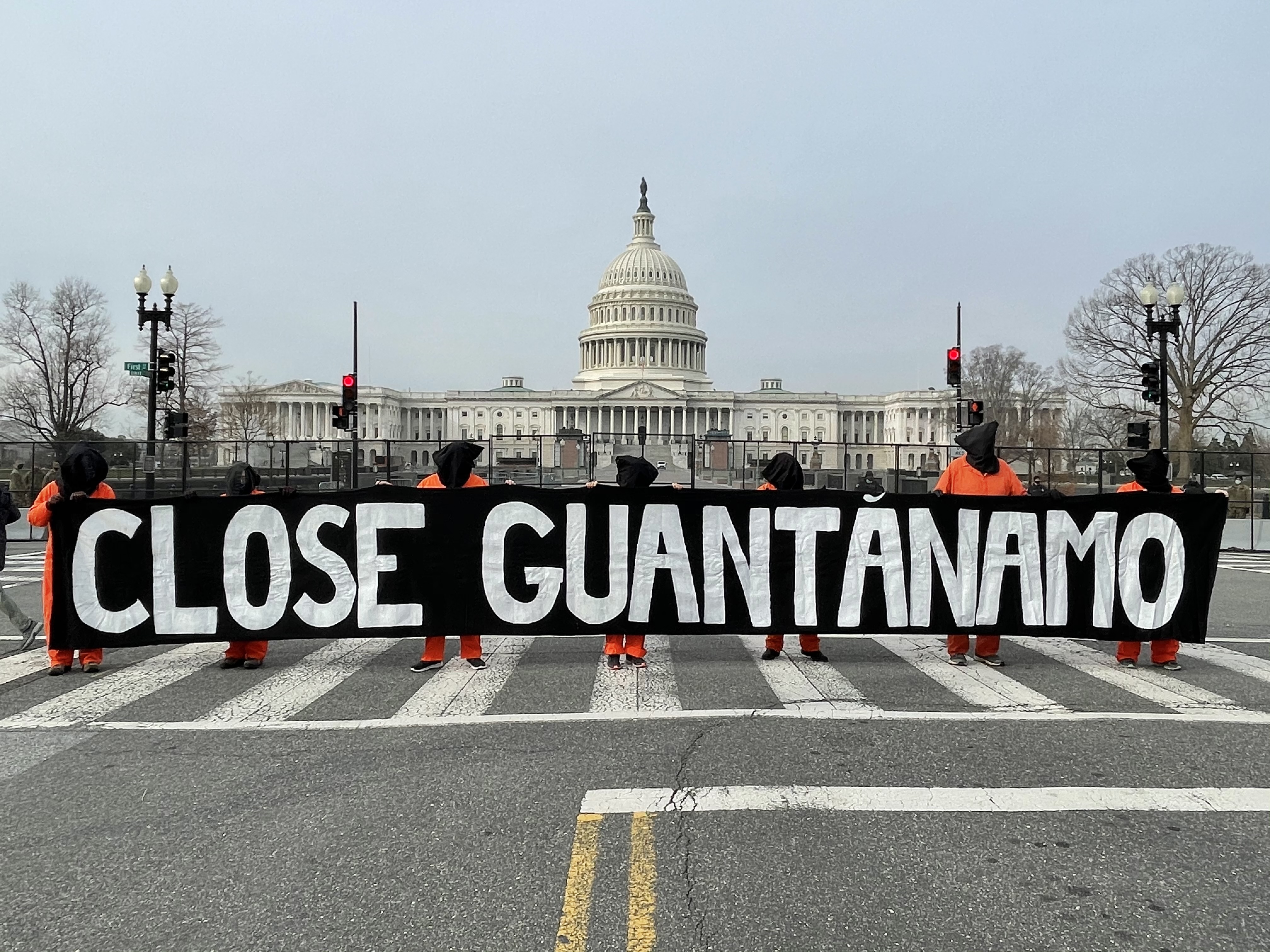 What is Guantánamo Bay?
In the wake of terrorist attacks in the USA on 11 September 2001, the administration – headed by President George Bush – declared a 'war on terror'. He argued that the need to counter terrorism and keep people safe overrode the obligation to respect human rights.
 
Guantánamo Bay was established by the United States in January 2002 as a place for the US authorities to hold people perceived to be 'enemy combatants' in this war on terror. The first detainees were transferred to the prison camp, based in Cuba, on 11 January 2002.
At Guantánamo, the US government sought to hold detainees in a place where neither US nor international law applied.
The facilities at Guantánamo have become emblematic of the gross human rights abuses and torture perpetrated by the US government in the name of counterterrorism. 
However, the military commissions created to try some of the detainees have proven ineffectual and unfair, denying defendants an impartial arbiter and access to critical evidence. This has also denied victims of the 9/11 attacks their right to justice.
Illegal detention and unfair trials
A scathing 2023 report by the UN Special Rapporteur on the Promotion and Protection of Human Rights and Fundamental Freedoms while Countering Terrorism details 21 years of indefinite detention for 780 Muslim men and boys, and the myriad human rights violations against them.
read on about the findings inside Guantanamo Bay
Of these 780 men and boys, only seven have been convicted, including five as a result of pre-trial agreements under which they pleaded guilty in return for the possibility of release from the base. These men faced trial by 'military commission'. The proceedings did not meet fair trial standards.
 
Only one Guantánamo detainee has been transferred to the US mainland for trial in a civilian court.
In 2023, the centre still holds 30 detainees, 16 of them cleared for release but still detained.
Prisoner at Guantánamo Bay: Shaker Aamer 
Shaker Aamer was one of the first detainees to arrive at Guantánamo Bay in 2002. He was detained in Afghanistan in November 2001 where, according to his account, he was working for a Saudi charity.
After 13 years in Guantánamo without charge or trial, and thousands of miles away from his family, Shaker Aamer was finally released and returned to his family in the UK in October 2015. 
He was actually cleared for transfer from Guantánamo in 2007, indicating that US authorities had no intention of bringing him to trial for the last eight years.
Shaker Aamer's lawyer maintains that he remained imprisoned for so long because he witnessed US and UK agents torturing men while he was in US detention. Shaker Aamer has claimed that MI5 officials were in the room when he was being tortured, which highlights the urgent need for an independent, judge-led inquiry into UK involvement in the CIA's programme of torture and rendition.
In 2023, the British House of Commons established the All-Party Parliamentary Group for the Closing of the Guantánamo Detention Facility, set to campaign for the closure of the notorious US detention facility at Guantánamo Bay. 
Cases of Guantánamo Bay: hunger strikes
Dozens of Guantánamo inmates have resorted to hunger strikes in protest at their conditions, continuing detention and human rights abuses as well as torture. At one time over 100 detainees were on hunger strike.
The video above produced by The Guardian is based on testimonies from five detainees describing how they have been force fed with a tube. Shaker Aamer told his lawyer about dozens of 'Code Yellow' incidents, in which imates collapse or pass out.
What we're doing about it
https://youtube.com/embed/saaJr9TcM0g 
'Myself, my son Mohammed and my wife Asma thank all Amnesty International members for supporting me and for supporting human rights... I will never forget their help'
Sami al-Hajj, a cameraman with Al Jazeera television, detained at Guantánamo for six years
Since the first person was transferred to Guantánamo Bay in 2002 we have been campaigning for all detainees to be immediately released or charged with a recognisable criminal offence and given a fair trial.
Immediately after his election as president in 2009, Barack Obama promised that he would close the camp within one year. Guantánamo Bay ran for longer on President Obama's watch than that of his predecessor, George Bush. 
 
The international outcry has led to many gaining their freedom. But more than 30 remain behind bars and we will not stop campaigning until they get justice and reparations.
While governments should protect citizens from the threat of terrorism, this threat should never be used to justify the violation of human rights or to repress legitimate opposition and dissent.
President Biden must finally right this wrong. His administration must transfer all remaining detainees who have not been charged with crimes to countries where they will be safe and their human rights will be respected.
In 2023 we issued a fresh call for President Joe Biden to close notorious detention centre where 35 people still held.