Reort on Amnesty International Yorkshire Regional Conference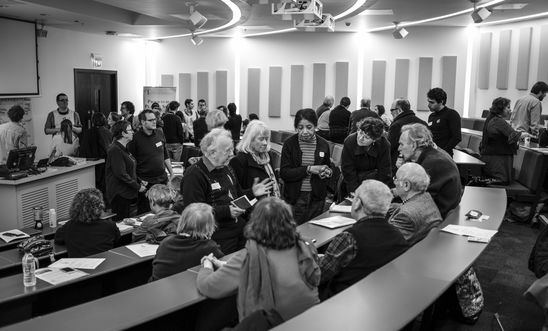 © John Hobson
INPUT FROM AMNESTY INTERNATIONAL UK
We were honoured in that we had four speakers from AIUK in London.
The first of these was Kate Allen, AIUK's Director. She spoke about Amnesty's global campaign, "I Welcome", the aim of which is to ensure that refugees receive the protection they need.
The nub of her message was that the narrative needs to change, that there has to be political action so a movement needs to be created, which, in turn, will change the political culture.
Refugee Week from 19th to 25th June is an opportune time to take this message out into the community but on the weekend before, inspired by the death of Jo Cox, there is the Great Get Together, which aims to bring the community together through street parties and the like. As Jo said: "There is more that unites us than divides us".
The next speaker was Laura Trevelyan. She spoke initially about the Human Rights Act. This brought the European Convention on Human Rights, signed by the Council of Europe in 1950, into UK law in 1998. It guarantees basic freedoms such as the right to liberty and security, the prohibition of torture and freedom of expression. More recently it has been used to obtain justice by the Hillsborough families and Celia Peachey (whose mother was murdered) as well as in the Northern Ireland peace process.
A major threat is posed to this by Theresa May, who has stated her opposition to the HRA.
Linked to the HRA is Amnesty's #AgainstHate campaign, which is challenging hate crimes in all its guises, including racism and xenophobia. Later in the day we carried out an action in support of this campaign, the photographs from which you can see.
Laura urged us to continue our campaigning for the retention of the Human Rights Act.
She also mentioned Trump Watch through which Amnesty is expressing its opposition to some of the new American President's policies.
Finally Andy Hackman and Jeni Dixon spoke about how how we should all seek to become more active in our communities. In particular they felt that there was much to be gained from collaborating with other organisations. We therefore spent some time in discussion groups investigating how we might achieve this in our own areas and then feed this back to the whole group. What emerged was that we were all aware of networks that we could explore and we all now felt motivated to do so. The Barnsley and Wakefield Groups, in particular, are already well down this road.
TWO ACTIONS
After lunch we undertook two actions: one for the "I Welcome" campaign and one #AgainstHate.
The photographs are brilliant and speak for themselves ... and for you.
(Many thanks to John and Alex.)  
This was followed by Alex Jagger speaking about what the Sheffield Local Group had undertaken during the year. They have a dedicated writing group, hold regular, well attended meetings and grace a number of local events with an Amnesty stand. He highlighted in particular how successful their HRA explanatory leaflet had been in that many people had seized it with alacrity. As he said, it is a difficult message to communicate. Rhiannon Griffiths then spoke about the work of Country Co-ordinators and about her role as the Country Co-ordinator for Japan. Please get in touch with her if you or your Group would like to include Japan in your work.
Conor Dunwoody then spoke about what the Sheffield University Amnesty International Society had been doing. Apart from hosting this conference, they have been busy furthering campaigns, holding regular meetings and, through Conor in particular, have played a full part in STAN (the Student Action Network).
ASYLUM MONOLOGUES
The conference concluded with a moving reading of two asylum monologues by Rosie and Stuart Larner, who had adapted them to read as two intricately intertwined stories.
A note of thanks from Rod Heath, the Regional Rep for Yorkshire and the NE
I would like to put on record my thanks to all those who took part in the Conference, especially to those who travelled a long distance to be with us, and I would like to thank especially the Sheffield University Amnesty International Society and the Sheffield Amnesty International Group for all the hard work that they did, most of which would not have been evident.  Finally, particular thanks are due to Alex Jagger and Conor Dunwoody for their herculean but unseen efforts.
View latest posts