Online event: The Prisoner and the Pen, 22 Oct 2020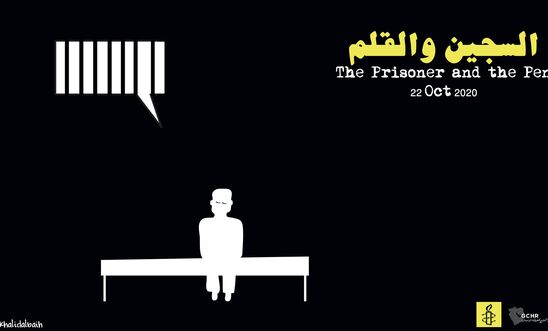 The voices and words of those imprisoned will not be silenced.
Please join Amnesty Westminster Bayswater and the Gulf Centre for Human Rights (GCHR) at an online event, The Prisoner and the Pen, to feature the writing, songs and poetry of prisoners who are human rights defenders, and also the work of writers/artists from the MENA region. The event on 22 October 2020 at 6-7:30pm London time (1pm EST) will be co-moderated by Simone Theiss of Amnesty Westminster Bayswater and Salma Mohammad of GCHR.
The event will take place on Zoom and you can join if you follow this link: https://bit.ly/3dFPERd.
We have chosen the date of 22 October, Ahmed Mansoor's birthday and will include poems written by him. 
From Bahrain, Egypt, Iran, Palestine, Saudi Arabia, Sudan, Syria, UAE, Turkey & Yemen, come and experience:
Poetry by Maryam Al-Khawaja, Golrokh Ibrahimi Iraee & Ahmed Mansoor

Songs sung by Ramy Essam & Elsa Saade from poems by Mahmoud Darwish & Galal El-Behairy

Readings by İyad El-Baghdadi, Hala Al-Dosari, Yasemin

Ç

ongar,

 Artur Ligęska, Mahnaz Parakand & Mohamed Soltan

Writing by Ahmet Altan, Nassima Al-Sadah, Nouf Abdulaziz, Atena Daemi, Shadi Habash & Razan Zaitouneh

Thoughts on loved ones in prison by Charlotte Allan, Richard Ratcliffe & Laura Rawas

Videos featuring the words of Abdulhadi Al-Khawaja & Galal El-Behairy

Documentary excerpt from filmmaker Hossam Meneai

Art by Khalid AlBaih & Maha Al-Omari
Please follow @GulfCentre4HR and @AmnestyWB to confirm the link and for more details of the event.
The event will also be live streamed on GCHR's Facebook page and available on GCHR's YouTube account in future.
Addendum (14 November): 
A recording of our event event is available on Facebook: https://www.facebook.com/watch/live/?v=818901928922383&ref=watch_permal…
And on YouTube: https://www.youtube.com/watch?v=AGsiHqiCYO0
One of our members also wrote blog post about the event: https://ciluna27.wordpress.com/2020/11/09/the-prisoner-and-the-pen/
We also included now the complete presentation of the event for you to download. 
View latest posts