Ali Mushaima about the Bahrain Uprising and his father Hassan Mushaima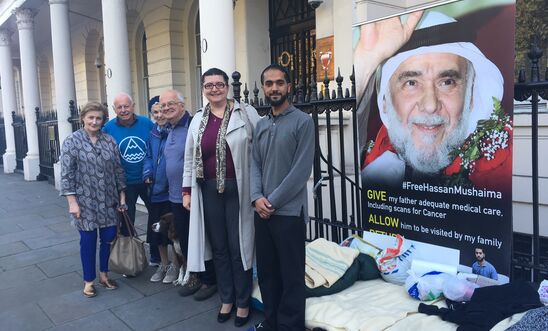 Ali Mushaima together with members of Amnesty Westminster Bayswater in September 2018
In our meeting on 16 March 2021 we had great pleasure to hear from Ali Mushaima, a human rights activist from Bahrain.
Our group knows Ali Mushaima well. In summer 2018 Ali has been on a hunger strike for 46 days. He spend all this time in front of the Bahrain Embassy and slept outside on the street to raise awareness for the situation of his father Hassan Mushaima. Hassan Mushaima is one of the Bahraini opposition leaders, the so-called "Bahrain 13". He was arrested on 17 March 2011 and sentenced to life in prison in an unfair trial. Ali was on hunger strike in 2018 because he had tree basic demands for his father: 
Adequate access to medical care, including the regular cancer scans
Allow him family visit
Give him access to books
The Bahraini Embassy is just a few minutes from St. Peter Eaton Square, the usual meeting place of our group meetings, and the group visited Ali Mushaima during our Sponsored Walk in September 2018 (see the photo). We had a very interesting conversation with him and are happy to support him in his struggle for his father. . 
The Arab Spring took place 10 years ago. Also in Bahrain people took to the streets to protest for democratic reforms. The so-called "Bahrain Uprising" was brutally crushed also with the help of troops from Saudi Arabia and UAE. Amnesty International published in February the article "Bahrain: Dreams of reform crushed 10 years after uprising". It gives a very good overview over the Bahrain Uprising 10 years on and is well worth reading. 
Ali spoke to us about the general background of the Bahrain Uprising and in particular about situation of this father who is 73 years old and has now spent 10 years in prison. We have put a recording of his talk on our YouTube channel and you can find it here: https://www.youtube.com/watch?v=WZwZh3RP0gw. Please watch it and share it. 
The current situation in Bahrain's Jaw prison in which also Hassan Mushaima is detained is very worrying. Amnesty International reported on 9 April that there over 70 new Covid cases in a major outbreak in Jaw prison. The authorities frequently deny prisoners adequate healthcare and there is a substantial overcrowding in the Jaw prison. You can find Amnesty International's press release here. 
.Ali told us that he is very concerned for his father, because of his old age and his general health problems. Bahrain released recently some prisoners, including Hassan Mohammed Jawad ("Parweez Jawad"), another of the "Bahrain 13" prisoners, but too many political prisoners are still unjustily in Jaw prison and are at risk, particular at the moment in the current Covid-19 pandemic. . 
Ali ask us and everyone else who cares about human rights to continue to campaign for his father. The last urgent action for him was in December, but people can certainly continue to write to the King of Bahrain, the Bahraini Embassy in UK and their MPs to raise the current situation of Hassan Mushaima (in particular in the context of the major Covid outbreak) and urge Bahrain to release him immediate and unconditional..
Please support Ali Mushaima and his father Hassan Mushaima. #FreeHassanMushaima
View latest posts