Thurs 27 Feb. LET'S START A PUSSY RIOT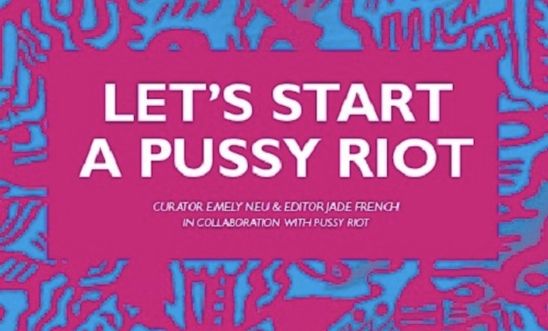 An evening with Emely Neu of "LET'S START A PUSSY RIOT".
"This book, published by Rough Trade Books, has been created in collaboration with Pussy Riot and links together the events leading up to and after the group's arrest and the themes that these courageous women fight for – feminism, LGBTQ rights, freedom of speech and the environment.
 
Contributors include Judy Chicago, Jón Gnarr, Antony Hegarty, Bianca Casady, Sarah Lucas, Bobby Conn, Robyn, Kim Gordon, Lucky Dragons, Billy Childish, Jeffrey Lewis and many more.
 
Pussy Riot undoubtedly ushered in a new era of feminism and political freedom with their protest acts. The dialogue so explosively ignited by Nadya, Masha and Katya continues in 'Let's Start A Pussy Riot'. Also heavily influenced by last years Antony Hegarty-curated Meltdown festival, the book includes an exploration of the concept of Future Feminism, asking how we can move forward and unite different voices and generations to create an inspiring dialogue."
Thursday 27 February, 5.30 - 7.30
Tremough Performance Centre, Penryn, Cornwall
View latest posts