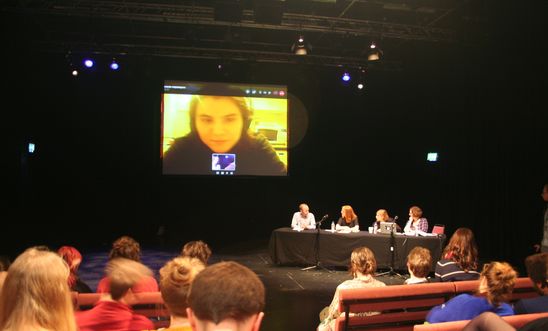 "Lets start a Pussy Riot". Pussy Riot event
Performance Centre, University of Falmouth, Penryn.
On 27 February the Truro and Falmouth Group took part in an event at the Performance Centre to find out more about the Russian performance artists known as Pussy Riot and to encourage students there to take action on behalf of individuals suffering human rights abuses in Russia.
The event centred around a  discussion with Emily Neu, curator of the book "Lets Start a Pussy Riot" and a fascinating live Skype  from Russia with Katya Samutsavich one of the group members arrested at the Moscow Cathedral performance in 2012.
The book, published by Rough Trade Books, was created in collaboration with Pussy Riot. It sets out their manifesto and links together the events leading up to and after the group's arrest and the themes that these courageous women fight for – feminism, LGBTI rights, freedom of speech and the environment.
There was a great turnout of about 60 students and we were able to collect lots of signatures on our petition letter on behalf of imprisoned Russian environmental campaigner Yevgeny Vitishko, a prisoner of conscience, punished for exposing environmental damage around the construction of the Sochi Winter Olympics.
View latest posts